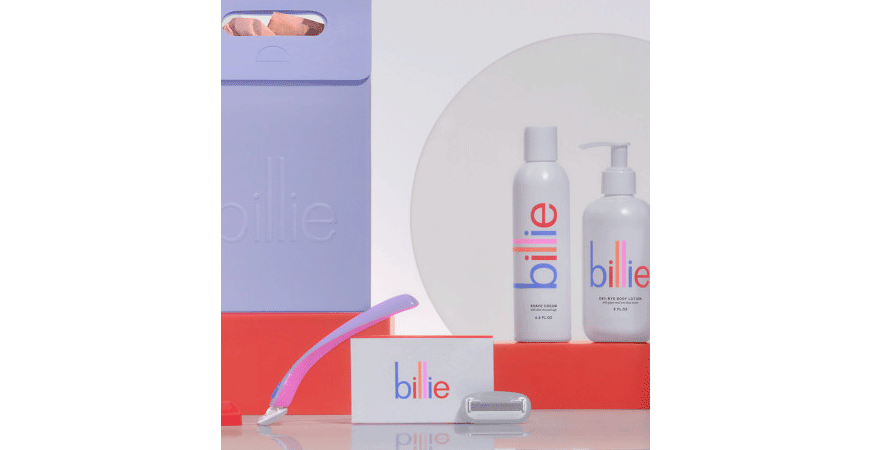 Billie Razors Review
The pink tax has been a known issue and a reality for several decades now. But what is pink tax, you might ask. Pink tax refers to brands tending to charge different prices for the same products, depending on whether they are targeted to men or women, with the women's ones always costing more for no real reason. Several studies found that on average products targeted at women are 7% more expensive than those for men. And the most infamous example of this is the Gillette vs the Venus razor. And you guessed it, the Venus is more expensive than the men's Gillette despite being an essentially identical product, produced by the same company.
That is where Billie comes in. Noticing this unfair bias towards female consumers, the brand launched a razor for women that scraps the pink tax and its price stacks up against men's razor's on the market. But is the Billie razor any good and is it worth the investment? And who or what is this Billie anyway? In this Billie razors review, we are going to answer those questions and more, as well as take a close look at the brand's more recently launched products, its values and philosophy. So read on to find out.
visit billie
About Billie
Billie is a New York-based brand founded by Georgina Gooley and Jason Bravman that launched in 2017 with a range of women's razors. Since then, the brand has released other beauty products and its offering now also includes stylish medicine cabinet essentials like a shaving cream, lip balms, dry shampoo, body wash and more.
Billie never wanted to be just another brand and launched with several missions. The first was to get rid of the unfair pink tax, as discussed above. The founders noticed that women were overpaying for razors and wanted to offer a fairly priced alternative. The way they are able to do that is by operating under an online direct to consumer system, therefore they don't have to pay a cut to any middle man or a retail space. Additionally, the razors are available for purchase only on subscription. And while it is easy to cancel the subscription or reschedule shipments, it encourages customers to stay on.
The brand is revolutionizing the industry by displaying body hair in its imagery, used in ads, on social media and its website. This "bold" move that goes against the standards of razor campaigns, where women "shave" what can only be described as smooth glowing skin, has earned the brand coverage on sites like Nylon, Refinery29 and InStyle. This the brand calls its 'Project Body Hair' and it is a rebellion against women often being shamed for having body hair that is, at the end of the day, natural.
Billie falls into the category of clean beauty brands, having a long list of potentially harmful ingredients or, groups of thereof, that the brand categorically does not include in its products, such as sulfates, parabens, GMOs, drying alcohols, fragrances or dyes. The brand uses the Environmental Working Group (EWG) as a guide and only uses ingredients verified by the group or ones that receive a rating between 1 and 3/10. The EWG specializes in research of toxic chemicals among other things.
To show support for the causes close to the founders' hearts and that go hand in hand with the brand's values, Billie has been donating 1% of its revenue since its very beginnings to charitable organizations such as Every Mother Counts (working to make pregnancy and birth safe for all women around the world) or Black Girls Code (providing IT education to African-American girls).
Pros
Affordable pricing
Pretty and stylish design
Showing body hair and actual shaving demonstrations in imagery and videos on the website and social media
No potentially harmful ingredients included in the products
Vegan
Cruelty free
Donates 1% of revenue to charitable causes
Cons
Razors and makeup wipes are available for purchase only through signing up to the Billie subscription service
Doesn't ship internationally, only to the US
Unclear returns policy
Contactable only via email
mybillie.com
Razor Starter Kit Review
The Razor Starter Kit is Billie's star product, as well as its very first. The razor has won several awards, including Allure's Best of Beauty and making the Beauty Hit List of Nylon. The Billie razor kit is available for purchase only through the brand's 'shave plan' subscription, however, the shipments can be rescheduled, skipped or cancelled any time.
The kit includes an ergonomic handle with anti-slip rubber back (you are given a choice of six colors to choose from), two rust-resistant five-blade razor refills coated in aloe vera soap for a smooth and gentle shave, and a magnetic holder so that you can keep your razor in the shower at all times, protecting it from ending up in the shower puddle. And all of that for $9 with free shipping.
When arranging your subscription on the website, Billie gives you the choice of receiving your refills either once a month, every two months or three months, depending on how often you shave. This can, of course, be changed at a later time. For every refill shipment the brand also charges $9 with free shipping and each includes four refill blades.
Check Availability
Shave Cream Review
When Billie launched its beauty products, it only made sense for the range to include a shaving cream since the brand's main product is the famed razor. And so Billie delivered the Shave Cream.
Instead of the usual foam sprayed from an aerosol can that we have come to expect from shaving creams, the brand opted for an actual creamy formula. Stored in a stylish white bottle with the brand's logo printed across in large colourful lettering, which will surely look great on your bathroom shave, the cream is made with a blend of moisturizing shea butter and olive oil, that both nourish the skin and help the razor to smoothly glide on the surface of the skin. For anti-inflammatory, soothing and healing benefits, Billie includes aloe vera and sage in the rich pillowy formula.
Keeping with Billie's affordable price points, a 6.5 fl. oz. bottle retails for $8 and can be purchased as a one-off product, no need for a subscription. However, if you do sign up for a subscription, you can always add one of these on.
Check Availability
Wonder Wipes Review
Another subscription-only product by Billie are its Wonder Wipes. The brand cites avoiding running out as the reason for them being subscription-exclusive, but just like with the Billie razor, you can change, skip or cancel your shipments of Wonder Wipes.
Wonder Wipes are essentially makeup wipes that claim to remove all of your makeup in a single swipe. And not only that. The brand goes as far as to say that one wipe can be used in place of an entire skincare routine. That we're not convinced about.
In a time, when most are moving away from makeup wipes as they are deemed inefficient and wasteful, which doesn't align with the current move towards sustainability, it surprising for a brand to come out with new makeup wipes and such claims on top of that.
One pack of Wonder Wipes includes 25 biodegradable wipes which can be delivered every month or two months for $9 each with free shipping. They are infused with cleansing agents, as well as hyaluronic acid and vitamin C serum for extra hydration and brightening. There is also a known difference between moisturization and hydration and while hyaluronic acid is a known hydrator, Billie claims this ingredient to deliver moisture instead.
Check Availability
Dry-Bye Body Lotion Review
Another product launch that made sense for Billie to come out with was a body lotion or cream – something to soothe and moisturise the body after shaving. And so Dry-Bye Body Lotion was born. The lotion includes moisturizing shea butter, grapeseed oil to help lock in the moisture, and chamomile to calm, heal and soothe the shaved or irritated areas. The formula avoids any stickiness or greasy shiny look and instead delivers a matte finish.
The body lotion comes in a stylish bottle with a pump, similar and matching with the one of the shaving cream. They will look great sitting next to one another in your medicine cabinet. This product is available for one-off purchases and a bottle of 8 fl. oz. retails for $12.
Check Availability
Sudsy Body Wash Review
To finish off the body care range, the last product is the Sudsy Body Wash. A shower gel designed for everyday use, this product has a rich and creamy texture and is both soothing and moisturizing, thanks to Billie's recurring hero ingredients – aloe vera and shea butter, with the addition of rosehip oil, which protects and hydrates the skin, restores elasticity and is a powerful antioxidant. The formula doesn't include any foaming agents but creates a natural lather.
As a brand made specifically for women, Billie made sure the formula is pH balanced so that it can be used all over the body, including the intimate areas, without drying out the skin.
The body wash of course comes in a bottle matching the lotion and shaving cream and 12 fl. oz. retail for $9.
Check Availability
Super Salve Review
Dipping its toes in the world of makeup, Billie has most recently released the Super Salve lip balm in six different variations. The $9 balm is available in three tinted options, three untinted and five of them are naturally flavoured. Despite the addition of flavour, it is highly discouraged to consume these lip balms. The collection includes:
Classic, a clear variation that is both untinted and unflavored
Minty, an untinted option with a cooling minty flavor
Sorbet, a sheer pink colour with a lemon flavor
Parsley, an untinted one with a herbal taste
Rhubarb, a wash of a red shade with a sweet flavor
Fig, a burgundy shade with a jam-like taste
With only a handful of ingredients, the formula is deeply hydrating thanks to the likes of avocado oil, sunflower oil, candellila wax (a vegan substitute for beeswax) and naturally derived vitamin E that makes the balm so smooth. It is then stored in a coloured tube (each flavour has its own colour) in a clear case. The packaging is yet again very visually appealing.
Check Availability
Billie Customers Reviews
We have, of course, also looked at several existing customer reviews of the Billie razors and the company in general. What we found was that the reviews on the brand's website are almost unanimously positive, with the razor scoring a 4.9/5 rating based on over 10,000 reviews, all singing the product's praises how it's not only the most affordable option out there, but the best performing one. On the other hand, searching through Trustpilot, the company as a whole has earned an overall rating of 4.2/5, which is significantly lower. While still the majority of customers left positive feedback, there are many that were most of the time dissatisfied with the customer service provided by the company. As customers can only contact Billie via email, many a time they do not receive a reply or not a very helpful one. Shipping also often takes a longer time than promised. Here are some example of the Billie customer reviews for you to make your own judgement:
"I am telling everyone I know to try this razor!! I have used many different types of razors & shavers over time and was never completely finished without at least one nick or a few left over. Not with this razor!! It felt like I wasn't even shaving just running silk over my legs- it was actually an enjoyable experience!"
"I purchased a razor and shaving cream a month ago. Received tracking information a week later and still haven't received the package. Contacted the company by email since they do not offer other options and did get a response saying if shipping details were not updated within 24 hours, let them know. I've emailed them 3 additional times since and never heard back. Completely unacceptable. I would not recommend this company."
"I've been let down by every razor available on the market. I stumbled across an ad for Billie and decided to give it a try. I'm so glad I did! The closeness of the shave is unbeatable and lasts for days which has never been a thing for me. I will definitely be keeping my subscription."
learn more
Where to Buy Billie
Billie is exclusively an online brand, sold solely through the brand's own website, and doesn't have a presence in any physical stores or other online retailers.
mybillie.com
Billie Shipping and Return Policy
Shipping
Billie ships only domestically to all 50 US states, but doesn't deliver internationally, not even to Canada. While the shaving plan subscription service and the makeup wipe subscription include free shipping, one-off orders under $15 are charged $4 for shipping. But again, if the order is over $15, the shipping is complimentary.
Returns
In terms of the returns policy, the brand is not very clear on this anywhere on the website. All that the site states is to get in touch with the team via email within 30 days of receiving your order. So we assume the brand operates under a 30-day return policy.
Contact Billie
If there are still questions left unanswered after reading our Billie review, we recommend getting in touch with the brand directly via:
Email at hello@mybillie.com where customer service representatives are ready to help every day of the week between 10am and 5pm ET
Instagram
contact billie
Billie: Editors Verdict
Billie is an innovative brand of razors that has found a gap in the market and decided to fill it and we command the founders for it. The fact that the brand is very conscious when it comes to affordability but doesn't let that impact the quality of the product is again something we appreciate. However, the areas we feel the brand needs to work on is its customer service, the ways in which customers can get in touch with the team, as that is currently only via email, as well as the reliability of its shipping, being an online only brand that is something Billie should have mastered. But taking all of that (and more) into consideration, do we think that Billie is worth the investment? Overall, we believe that it is. Some products certainly more than others as we find that the razor is the one to go for and perhaps the wipes to give a miss.
shop now
The post Billie Razors Review appeared first on BeautyBets.