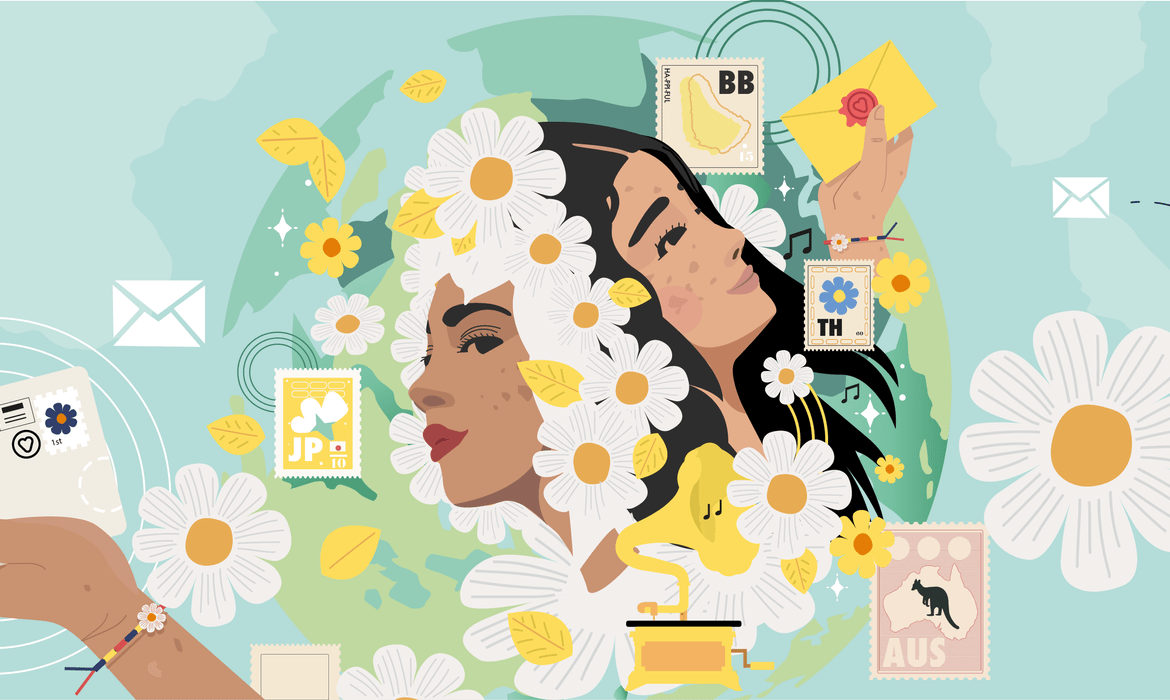 How sending a card can nurture your social health
Looking for ways to reach out to a loved one? Send them a beautiful card with meaning
In many ways, sending a card or a handwritten note in the post feels like a bit of a lost art. Technology has turned the way we communicate upside down; our inboxes and notifications overflow into our busy lives and, sometimes, digital communication can feel like more of a bane than a blessing.
What's more, despite the variety of online methods that are available for us to send a message to someone we know, they don't necessarily help us to feel any more connected with our loved ones. Sometimes it's offline forms of connection that mean the most – an old fashioned phone call, meeting up face to face, or receiving an envelope with a handwritten card that reminds you just how much you're loved.
Katharine Pratt, founder of stationery brand Pushing Envelopes said that she was reminded of this during the pandemic. "During the first lockdown, I rediscovered the joy of letter writing. I found it a meaningful way to connect with friends whilst living by myself. It also got me thinking about the influence of digital and physical forms of communication on the quality of our friendships.
"After doing some research, I was shocked to discover that, even before the coronavirus pandemic, one in five people reported feeling often or always lonely. Loneliness has also been shown to be as bad for your health as smoking 15 cigarettes a day. I wanted to do something to address this and so the idea for Pushing Envelopes was born."
Now, Pushing Envelopes is on a mission to help people nurture their social health and relationships through letter writing. They work with independent artists to design beautiful products destined to become treasured keepsakes. Through art and writing, they help customers build deeper connections with themselves and invest time in nurturing meaningful connections with others.
To celebrate International Women's Day, Pushing Envelopes has partnered with Sisterhood, an award-winning social enterprise that delivers creative programmes to build confidence and self-esteem in young girls aged 13-17. Together, they've created a unique collection of greeting cards celebrating the power of friendship. The collection of four vibrant designs encourages folks to nurture their connections with the important people in their lives.
"We couldn't think of a better way of enabling people to reach out, nurture and build their own sisterhood than through writing. We see the power of girls coming together and supporting each other every day through our programmes and we hope these cards are a way of extending that beyond the work we do," says Rachita and Rebecca, founders of Sisterhood.
Pushing Envelopes is donating 10% of profits to support Sisterhood's mission where every girl has access to creative opportunities to build her confidence and fulfil her potential. What's more, every purchase supports Pushing Envelope's PenPal club, which uses letter writing as a tool to reduce loneliness levels in the UK.
So, buying a card means that you'll not only be nurturing your own social health and that of your loved one, but you'll also be supporting the mental health of people that are battling loneliness, too.
What to write in a friendship card
Whether or not you've got a reason to send a card to a friend, sending a handwritten message is a great way to bring a smile and nurture the connection you're lucky enough to share with them. Looking for some fresh thoughts on what to write? Try the prompts below!
Make a list
If you've got lots to say, a list can help you to get all you want to share down on paper.
My three favourite memories of you…Five reasons I'm glad we're friends…The 10 greatest things about you…15 reasons I love you…
Express gratitude
Try these sentence starters to share what you're thankful for.
I'm grateful for you because…I'm so lucky to have a friend like you. Here's why:I appreciate so many things about you. Especially…Thank you for all the times you've been there for me, like the time when…
Share hope
If they've had a hard time recently, bring a ray of sunshine to their day.
Things have been tough recently, but better days are coming.You are an amazing person that can get through this.Keep strong and keep doing little things that make you happy.I love spending time with you. Let's get a date in the diary…
To purchase a card to send to a friend or to find out more about the Pen Pal Club, visit pushingenvelopes.co.uk.
If you're struggling with loneliness, don't be afraid to seek professional help. Talking to a verified counsellor can make all the difference. Find a therapist near you on Counselling Directory.