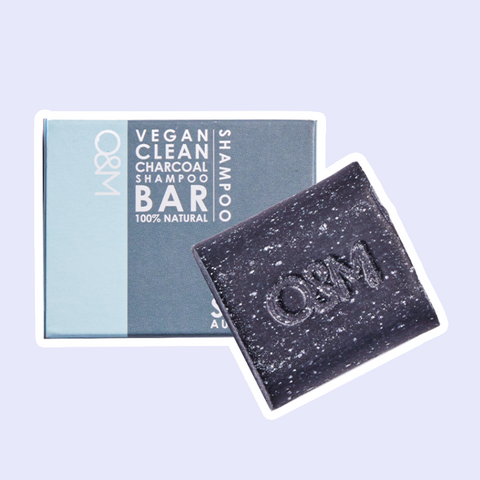 The Best Shampoo Bars For Every Hair Concern
You'll never buy liquid shampoo again once you hear about shampoo bars. These solid sudsers have been having a moment in the eco-beauty world lately, but did you know they're arguably better for your hair too?
We'll call it like it is: plastic packaging is one of the shadier sides of beauty. Especially when you look at the products we practically need to use, like shampoo. When pressed into a perfectly solid soap, shampoo bars remove the excess plastic packaging needed to house liquid shampoos. Better yet, they last 3x longer than the bottled stuff and reduce water consumption significantly too!
If you've been unsure about the overall beauty benefit of these bars, you'll be happy to know shampoo bars are typically more hydrating and gentle on hair! This is because they're usually sulfate free, toxic ingredient free, and made with plant-based ingredients like oils. Seriously, all that.
And with their boom in popularity, you can find the best shampoo bar for just about any hair concern. Kinda like these ones…
Read Next: Hair Hydration Treatments to Save Summer Hair
Best Bars for Buildup
O&M, Charcoal Shampoo Bar

One of the most-liked Australian shampoo bars on our list, O&M's Charcoal Shampoo Bar is ideal for oily hair or anyone just needing a good detox. Formulated without sulfates, it gets in deep with kakadu plum and activated charcoal. Bye-bye, product buildup!
Abhati Suisse, Nanda Detoxifying Shampoo Bar

While detoxing shampoos (of any kind) can be a bit drying, Abhati Suisse's Nanda Detoxifying Shampoo Bar curves that with a pH balanced formula and a boost of argan oil! Additional key ingredient ginger root makes up the anti-bacterial base of this beauty bar too.
Read Next: 5 Natural Scalp Treatments You Can DIY
Best Bars for Fine Hair:
Kitsch, Rice Water Protein Shampoo Bar for Hair Growth

Bet you never thought a bar of soap could grow your hair! Packed with rice water protein, this Kitsch Protein Shampoo Bar is perfect for brittle and damaged locks. If you've seen rice water rinses growing online, it's because they repair damaged follicles and split ends while encouraging hair growth via protein power. Soft, shiny, and bouncy from root to tip.
Davines, Volu Shampoo Bar

A solid choice for fine haired girls, limp lengths are promised serious body with Davines' Volu Shampoo Bar. Enriched with turnip root extract, this bar lathers into a rich foam to ensure there's no strippage to delicate locks. Bonus points for the added softness that we've come to expect with Davines' salon-quality bars.
Unwrapped Life, The Stimulator Shampoo Bar

Fine hair has its own unique problems—it's bound to be oilier and much more delicate. Luckily, The Stimulator Shampoo Bar is out here solving both of those probs! French green clay and antioxidant-rich matcha tea are your follicle dream team here: decongesting the scalp, removing impurities, stimulating hair growth, and reducing hair fall.
Read: 10 Perfect Hairstyles For Fine Hair Types

Best Bars for Dry Hair:
Lush, Coconut Rice Cake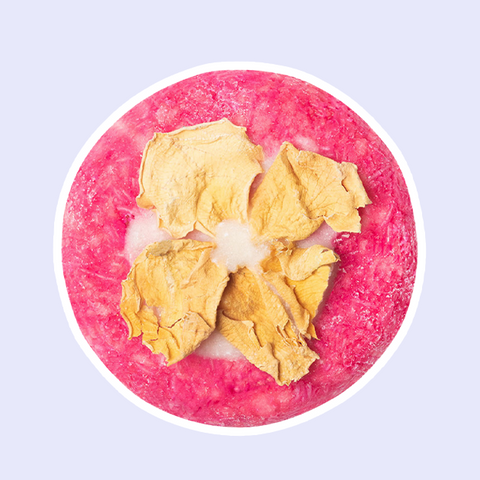 With a whole brand built on eco-beauty, you know Lush would have one of the best shampoo bars! Their Coconut Rice Cake shampoo bar is nothing short of an over-achiever for dry hair. At the root, bits of rice help exfoliate flakey, dandruff (which is often caused by dryness btw). And for ends, creamed coconut and shea butter power up for a heavy dose of hydration.
Christophe Robin, Hydrating Shampoo Bar with Aloe Vera

Shampoos bars can sometimes get a bad rep for being stripping if they contain soaps. Luckily, the good guys make extra hydrating versions. This Hydrating Shampoo Bar with aloe vera is just that. 100% natural, this bar pressed aloe vera, natural glycerin, and castor oil into a mega hydrating beauty solution.
Davines, Momo Shampoo Bar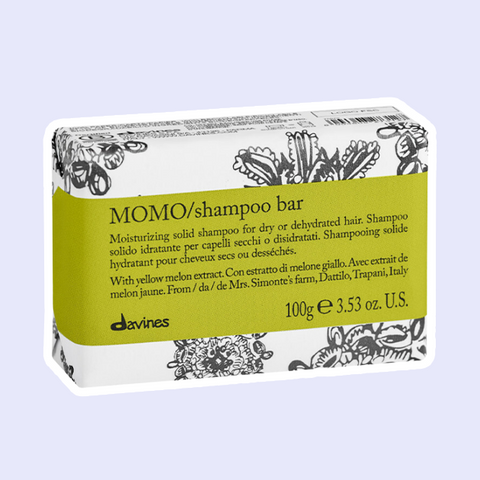 Davines, and their cult favourite Momo Bar, set out to make the best shampoo bar for dry hair. Enriched with yellow melon extract, this hydrating shampoo bar will not only hydrate hair, but provide a soft, silky shine! Five stars for its rich, creamy lather, too.
Read Next: The 8 Best Hair Masks For Dry Hair

Best Bar for Sensitive Scalps:
Longwknd, Unscented Shampoo Bar

Fragrance free and sulphate-free, this is one of the best shampoo bars for anyone with sensitive skin and scalp! Longwknd's Unscented Shampoo Bar removes excess sebum and buildup without stripping hair of its natural oils. The latter you can thank aloe vera, grape seed oil, and sunflower seed oil.
Read Next: How to Stop Scalp Itching: 5 Actually Easy Ways

Best Bars for Coloured Hair
Ethique, Tone It Down Shampoo Bar

Don't worry, blondes! There're purple shampoo bars just for you. The Tone it Down shampoo bar by Ethique contains no sulfates or petrochemical-derived dyes and is great for using along with your regular shampoo (we hope it's in bar form too). A bit of beetroot extract gives this bar additional colour power, along with moisturizing jasmine and babassu oils for those who need to hydrate post-bleach.
Lush, Co-Wash Avocado

A 2-for-1 shampoo and conditioner bar, this Avocado Co-Wash is equally balanced when it comes to moisture. With avocados (obv) and a nourishing mix of cupuaçu butter, cocoa butter, and extra virgin olive, this sudser is one of the best shampoo bars for curly hair too.
Read Next: The Guide to Dying Your Hair At Home Sans Meltdown
 
Best Bar for Bargain Hunters
The Soap Works, Avocado & Honey Shampoo Bar

Solid shampoo bars don't need to be overly expensive, btw. You can even make your own if you dabble in DIYs. Although the higher end bars out there usually have boosted benefits, you can get a non-stripping formula for cheap from most health food stores like this The Soap Works one. At less than $5, you score nourishment from avocado and softening moisture from honey.
Hair need a little more? Read these:
The Hydrating DIY Hair Mask That *Actually* Nourishes Your Hair

All The Benefits of Jojoba Oil on Hair (And Why it's The Best Fine Hair Oil)