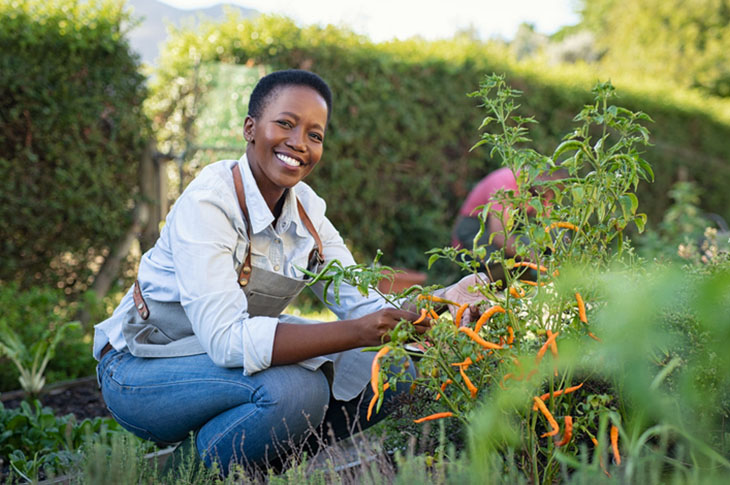 A Beginners Guide to Growing Your Own Produce
In response to the uncertainty that came with the pandemic, many found themselves tapping into their inner green thumb as a way to deal with stress. But whether you're coping with a crisis or not, tending to a garden can be hugely beneficial. Just imagine having something to tend to everyday that transports you to a place of tranquility, then in turn, rewards you with fresh and flavorful foods. 
"The process of watering plants can be almost meditative and provides a welcome distraction from day-to-day to-do lists," says Mary Jane Duford, home gardening expert and founder of Home for the Harvest. "It can also be incredibly rewarding to have plants to tend to and to watch them grow and thrive with your support."
Whether you're in a city with a windowsill or in the suburbs with a large yard, growing your own produce is a fun hobby anyone can pick up. Keep reading to learn about the added benefits of having a small produce garden plus some tips on how to get started.
Why you should start a produce garden
Immersing yourself in the natural world of gardening can be both healing and rewarding. A recent study suggests that a "friendly" bacteria in soil can even help fight depression and elevate your mood.
"I know many people who get huge pleasure from even tiny container gardens," says Mark Ridsill Smith, author of The Vertical Veg Garden to Container Growing. "When I run workshops, I also witness how people relax as soon as they get their hands in the soil—it's like magic."
Not only is it therapeutic to the mind, body, and soul, but having your own produce garden allows you to have additional nutritional value from the vegetables because there is less time between harvest, preparation, and transport.
"When you grow your own herbs and vegetables you can harvest when the veggies are at their peak of flavor and nutrition, not when they are best for transport," says Melinda Myers, gardening expert, author and host of the Food Gardening for Everyone DVD set. "Plus, as a gardener you control what goes on your plants throughout the growing season. Many people are looking for organic produce and this is one way to know how the plants were managed."
For some with outdoor gardens, the activity can even be considered exercise. "I have been wearing a Fitbit Alta for five years or so and it reminds me to get up and move when I spend long days at the computer," says Myers. "But when garden season arrives, it is very easy to get more than my 10,000 steps each day."
If you're trying to incorporate more greens into your diet, furnishing a green thumb is also a great place to start. "People who grow their own also find that, when they have fresh food on their doorstep, they start to eat more of it," says Smith. 
Beginner tips 
This desirable activity is gaining in popularity for many reasons, but the greatest gift it offers might just be seeing, then eating, the fruits of your labor. "Each year offers new opportunities and new challenges," says Myers. "Every gardener has killed a plant or had a failure, but keep trying. This is part of the learning process."
Here are some beginner tips to get started on an outdoor garden.
First, know your growing zone. "Many new gardeners eager to start growing make the mistake of attempting to grow plants at the wrong time of year or selecting plants not suited for the region in which they live," says Katie Stagliano, Founder and Chief Executive Gardener at Katie's Krops. You can learn about your zone here.
Go for easier herbs and produce to start. Try lettuce, tomatoes, peppers, Ichiban eggplant, radishes, and beans. "The key to a bountiful garden starts with nutrient-rich soil," says Stagliano. "If you will be planting directly in the ground, make sure to amend your soil with compost."
It's important to note that some plants require pollinators, and some do not. "For example, tomatoes, peppers, and eggplant all require pollination, so they need to be planted outside," says Stagliano. "Planting flowers alongside your vegetables is an excellent way to invite the bees and butterflies to your garden."
She also says that radishes and beans are best planted as seeds directly in the ground where you wish to grow your garden. "We usually plant tomatoes, peppers and eggplant via seedlings, a starter plant that you purchase from a garden store."
Visit your local garden store and ask for their recommendation. If you grow in a raised bed or pot, a mix of potting soil and compost is ideal. Ensure your plants are placed in an area where they will get plenty of sun, a minimum of six hours, and be sure to water them heavily when they are first planted, Stagliano explains.
For city folk, here are some tips on how to start a small apartment garden. 
Make sure plants are on a windowsill or balcony. "Make sure your plants are placed in an area where they will get plenty of sun if they are inside," says Stagliano. "Tomatoes, peppers, and eggplant are lovely plants to grow in pots. Make sure to mix potting soil and fertilizer and regularly water your pots." However, as mentioned earlier, tomatoes need pollination, so be sure to only grow them in pots outside on a balcony if you have one.
Consider an LED light if natural lighting is limited. "Light is the biggest limiting factor when growing herbs and vegetables indoors," says Myers. "Supplementing natural light with artificial light will result in much better results."
Beginner plants for an indoor garden. Lettuce, cabbage, collards, Swiss chard, basil, parsley, rosemary, and oregano do not require pollination and can be grown inside on a sunny windowsill in an apartment. "However, mint is a highly invasive plant, so if you decide to grow it, be sure to put it in its own pot," says Stagliano.
Lastly, don't forget to share your harvest with friends and family! "Spread the love with homegrown tomatoes and peppers," says Stagliano. "You never know what can grow from just one seed. Gardening is a beautiful way to spread love and positivity, something the world needs a whole lot more of these days."
The post A Beginners Guide to Growing Your Own Produce appeared first on Fitbit Blog.