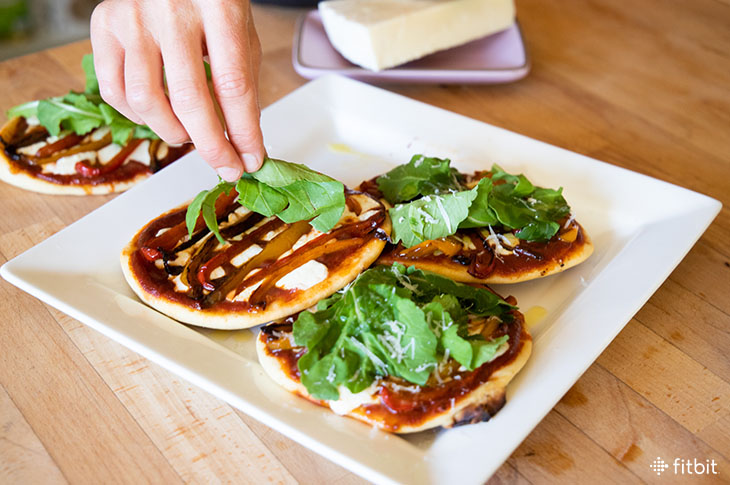 Healthy Recipe: A Colorful Veggie Pita Pizza Inspired by the Former First Lady
Recipe by Leandra Rouse | Photo by Samantha Emmons
March is Women's History Month, so we thought it would be fun to explore some of our country's favorite female heroes through the lens of food. And when talking about healthy food, there are few modern leaders who have been as impactful on our national health as Michelle Obama. The Let's Move campaign made huge policy changes that improved the nutritional standards for public schools—the greatest shift to these standards that has been seen in over two decades. 
And what is particularly outstanding about the way Michelle Obama thinks and speaks about food is the joy she brings to the subject. She is a person who loves a great meal and practices regular healthy eating habits. To find joy in healthy food is the secret sauce to long term health. So with that in mind, we have created a quick, healthful after-school snack in honor of the Pizza-loving, Chicagoan change-maker.
In an interview with The Hill, Michelle Obama shared that her favorite food was pizza and that she enjoyed a veggie pie weekly. That statement, paired with her school lunch changes for more whole wheat, low-fat dairy and vegetables, was the inspiration for this dish.
This recipe uses whole wheat pita bread as a base to save you the time spent making pizza dough. And tops it off with low-fat mozzarella and a colorful array of vegetables. We like it topped with arugula and parmesan cheese, but if serving to a family with picky kids, you have the option to leave off the fresh arugula or replace it with spinach or a fried egg. Because pita comes fully cooked, begin by cooking the vegetables separately and grating the cheese. Once each ingredient is ready, assemble them on the pita and heat just until the cheese is melted—about 7 to 10 minutes. This recipe makes a great afterschool snack or a quick and light dinner. And because it follows the Let's Move guidelines, we think Michelle would approve.
INGREDIENTS:
One cup of sliced bell pepper, a mixture of colors
½ small onion, sliced thin
1 teaspoon olive oil
Four tablespoons grated low-fat mozzarella cheese
Four tablespoons of pizza sauce
Four whole wheat pita bread rounds
One cup loosely packed arugula
One tablespoon shredded parmesan cheese
INSTRUCTIONS: 
Preheat the oven to 350.
Slice the onions and bell peppers lengthwise.  Add the olive oil to a sauce pan and heat over medium. Once oil is hot, add the onions and bell peppers to the pan and saute until soft—about ten minutes. Remove from heat and set aside. 
While the vegetables are cooking, grate the mozzarella cheese and set aside. Remove pita bread from the package and set on a baking sheet. 
Add a tablespoon of mozzarella to each pita and layer with roasted vegetables. 
Cook the pita pizza in the over for 5 to 7 minutes, or until the cheese is melted. 
Remove the pizza from the oven. When ready to serve, top with a handful of arugula and a shaving of parmesan. 
Makes 4 servings.  
NUTRITION FACTS (PER SERVING): 
Calories 200
Protein 9 g
Total fat 4.5 g
Saturated fat 1 g
Cholesterol 5 mg
Carbs 35 g
Fiber 1 g
Total sugars 3 g
Added sugars 0 g
Sodium 360 mg
The post Healthy Recipe: A Colorful Veggie Pita Pizza Inspired by the Former First Lady appeared first on Fitbit Blog.