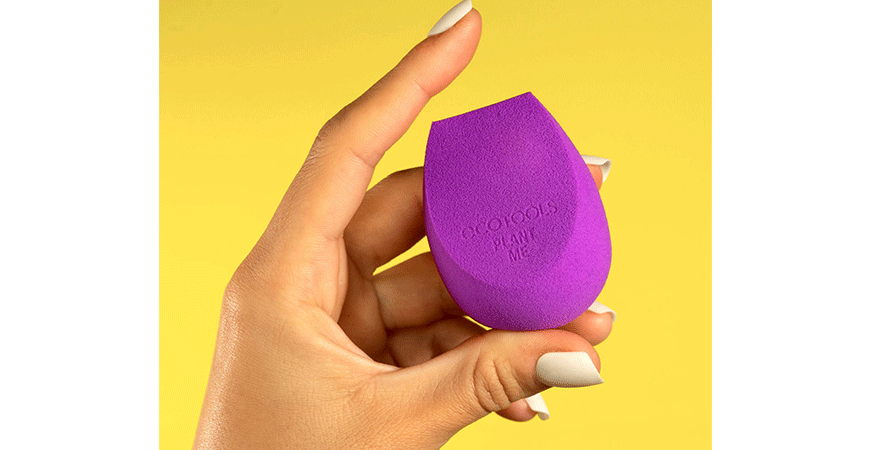 EcoTOOLS Review
The sustainability movement has built up a lot of momentum over the past few years and has gained many followers as people realise the need to be more conscious when it comes to treating the environment. Living a more sustainable lifestyle affects every part of one's life. Including your makeup and beauty routine which is what we love to talk about here on Beauty Bets.
Clean beauty is the result of this shift in people's priorities since the early 2000s. And while today, the market is filled with clean beauty brands, as the clean beauty market is valued at around $5440 million, there are very few brands that have considered how clean and sustainable their beauty tools are. And in this area, EcoTools really has no competition, as this US-based brand uses biodegradable, recycled and recyclable materials to create its makeup blenders, brushes and more.
But how good is this brand really, you might ask? And are its products really worth your hard-earned money? In this EcoTools review, we are going to answer these questions by taking a close looks at the company's philosophy, products, materials and, perhaps most importantly, some customer reviews from existing and previous customers. So read on to find out.
visit ecotools
About EcoTools
EcoTools is an eco-friendly clean beauty brand that puts the well-being of the planet first when creating its products and its packaging, as well as their effectiveness, quality and affordable pricing. Founded by sisters Stacey Bingaman and Jenny Ball in 2007 as a response to the rising interest around wellness culture, EcoTools offers a range of makeup brushes and blenders, as well as other beauty and body tools like facial rollers, sponges and cleansing and exfoliating brushes.
EcoTools prides itself to be both vegan and PETA-certified cruelty-free, so none of its products is tested on animals or containing animal-derived materials, as well as environmentally friendly. Some of the sustainable materials the US-based brand uses to craft its tools include renewable bamboo wood, recycled aluminium and its very own invention of biodegradable sugarcane-based EcoFoam.
The brand puts just as much effort into its packaging. And despite not being able to eliminate plastic from it completely, last year the brand managed to reduce the use of plastic in its packaging by 88% and on top of that, only uses recycled PET that is also recyclable, as well as post-consumer recycled and biodegradable paper.
Despite the brand being based in the US, most of its products are produced in Asia. EcoTools states that its manufacturers are submitted to thorough inspection and auditing before the brand decides to partner with them and monitors them throughout to ensure they adhere to the regulations in a bid to promote ethical and fair labor practices. Unfortunately, not much more than that is shared and no proofs and certifications are shown.
Pros
Sustainable – the brand uses exclusively renewable, biodegradable, recycled and recyclable materials for its products and packaging
Wide range of makeup, skincare and body care tools
PETA-certified cruelty-free and never tested on animals
Vegan
Stocked all over the world in most countries, both online and in physical stores
Its retailers offer international shipping, such as Amazon
Affordable pricing
Cons
The brand itself doesn't sell its products, selling is done through its retail partners
The brand doesn't go into specifics on how ethical its production really is
Products are not manufactured locally to the brand
Packaging still uses plastic
learn more
Product Reviews
Bioblender Review
The Bioblender is the brand's newest product but since its launch, it is really the star product. And arguably its most innovative one. The eco-friendly answer to the now iconic Beautyblender, the Bioblender is made from a blend of five natural and eco-friendly ingredients – water, corn, natural preservative, natural pigment and bionanopol, a molecule of organic origin and the secret ingredient that makes the beauty sponge biodegradable and compostable. The brand's research suggests that if composted at home, the product will degrade by 76.1% in 180 days. But don't worry, the blender won't dissolve during use. In turn, its packaging is made from Forest Stewardship Council-certified (FSC) paper and printed with soy-based ink.
Since its launch, the Bioblender took the beauty industry and especially trendy social media platform TikTok by storm and many are switching their other makeup sponges, including the famed Beautyblender, for the much more sustainable Bioblender.
The shape of the bright purple product with its three edges is patented by EcoTools but its use is very similar to other makeup blenders. Just without costing the environment. The Bioblender is best used with cream and liquid makeup such as foundation, concealer and cream blush. It can be used both dry and damp – dry for full coverage and touch ups and damp for more sheer, natural and glowing makeup. Make sure the sponge is damp, not wet – after wetting squeeze out the excess water.
The product retails for $4.99, which we cannot help but compare to the whopping $20 for a Beautyblender, and it's recommended to clean your Bioblender once a week and replace every 30 days.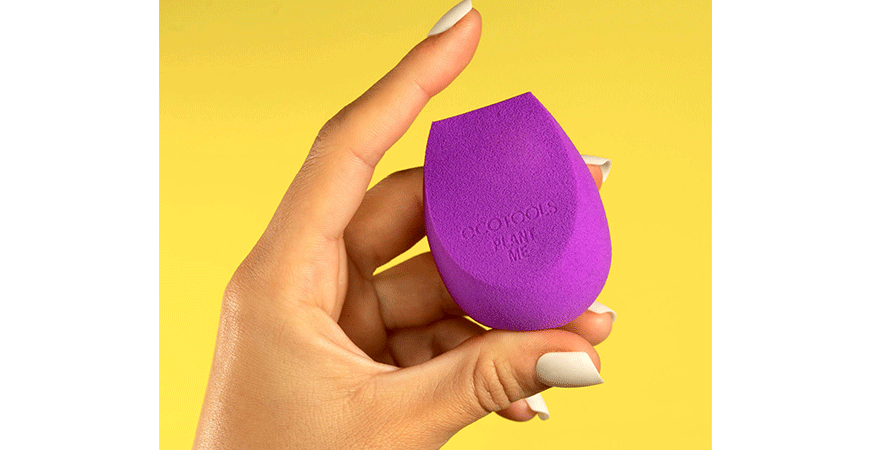 check availability
Daily Essentials Face Brush Set Review
The Daily Essentials face brush set is part of the customizable Interchangeable collection of makeup brushes that is also one of the newer releases. The set includes two brush handles, made from renewable bamboo, and five brush hands, made with cruelty-free synthetic bristles and recycled aluminium. The color on the top of the handles and the bottom of the heads, either blue or green, lets you know which brush top fits which handle. This is another innovative, less wasteful and compact solution for makeup tools from EcoTools.
The set is stored in a reusable metal tin and the brush heads included are:
Large angled brush for applying powder bronzers and blushes
Large base buffer for applying liquid and cream foundations
Small angled crease brush for eyeshadow
Small airbrush concealer brush made for applying cream concealer in the under-eye area and on blemishes
Spoolie brush for combing through brows and lashes
As the name of the set suggests, these brushes are all the essential tools you need for creating a full face makeup look. And all that for $14.99.
The packaging is made with recycled PET and recycled paper.
check availability
Flat Foundation Makeup Brush Review
One brush from the Interchangeable range that is not included in the Daily Essentials set is the flat foundation makeup brush. This product includes both the removable brush head with densely packed synthetic bristles in a wide flat shape and a large green-top handle. It's perfect for applying liquid and cream foundations, giving a flawless finish without streaks.
The paper packaging is made entirely from biodegradable and recyclable paper and the brush retails for $8.
check availability
Blending & Bronzing Makeup Brush Review
One of the most popular brushes from the EcoTools range is the Blending & Bronzing makeup brush which retails for $9.99. This product, however, is not part of the Interchangeable collection and therefore doesn't feature a removable head. The rest of the composition is the same as the Interchangeables though – bamboo handle and recycled aluminium top holding cruelty-free synthetic bristles, which in this case are duo-fiber for the purpose of buildable application of a bronzer. The tool can be used both with a powder and cream formula and also comes in an all-paper packaging.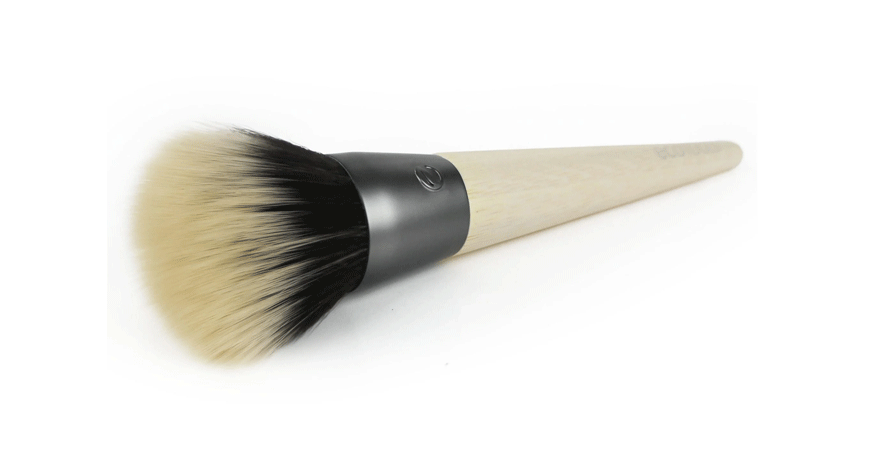 check availability
Enhancing Eye Set Review
The Enhancing eye set is also one from before the new Interchangeable collection. But that doesn't make it any less good. The $5.99 set includes two brushes but each brush has two different brush heads so essentially, you're getting four different brushes, all designed to create the perfect makeup look. The bamboo handles even include writing to guide you and tell you which brush head is meant for what purpose.
The soft tapered Shade head is for applying eyeshadow all over the lid
The Define side is smaller, angled and harder to line and enhance the eye shape
The Blend head is again soft and gets rid of patches and any harsh lines
The short and stubby Smudge side is made for smudging eyeliner and shadow along the lash lines
check availability
Makeup Brush Cleansing Shampoo Review
Makeup brushes require care and cleaning. Because if you don't care for them, not only will your brushes not last as long, but your skin will suffer as dirty brushes fester bacteria which is then transferred onto your skin when using the brush and that can result in breakouts. And no one wants that, right?
That's why EcoTools developed their own makeup brush and sponge cleansing shampoo, an essential for cleaning and washing your brushes and makeup sponges. The shampoo gets rid of makeup, oils, dirt and bacteria and is tested and approved by dermatologists. It is also free of parabens, phthalates, fragrance and petroleum in a true clean beauty fashion.
Use weekly to wash your brushes and sponges by first dampening them and then applying a little amount of the shampoo. Rub bristles or sponge gently between your fingers to create lather, then rinse thoroughly. Repeat until the water runs clear. Squeeze out remaining water, rearrange bristles and lay flat to dry.
The cleansing shampoo is available in a 6 fl. oz. bottle, made from recycled plastic, and retails for $8.99.
check availability
EcoTools Customer Reviews
When reviewing the existing customer reviews, it was difficult to find any negative feedback about most products. Customer sing praises about most of the Ecotools brushes, as well as its Bioblender. The only reservations expressed (that we could find) were in regrads to the cleansing shampoo and the Enhancing eye duo. The shampoo received mixed reviews as some customers feel it doesn't do a much better job than a regular soap and its price is not justified. Despite this, the shampoo is still liked by many and has earned a rating of 4.6/5 on both Amazon and the brand's website. In terms of the eye brush set, many customers love the individual brush heads but are not keen on the double-sided design which makes it impractical to store and wash. But that didn't stop the set from getting an impressive overall rating of 4.7/5 on Amazon. Here, we've compiled a taste of a few of the EcoTools customer reviews to give you a better idea:
"I was not a fan of this product. It was extremely thin consistency and didn't lather or wash well. I was better off sticking with my Dawn dish soap with a little olive oil. That combination blows this brush soap out of the water and is way cheaper and more affordable."
"The EcoTools – BioBlender by EcoTools Makeup Sponge is biodegradable. Safe for sensitive skin. The patented shape really gets the coverage I need the tight areas around my eyes. This sponge doesn't absorb the makeup like other sponges. This really spreads the makeup around and gives me a flawless look. I'm definitely getting my money's worth. Highly recommend this. Very happy with this product and the beautiful end results."
"Didn't think til I have them. Good brushes, but you have to lay them flat. Can't stick em in a cup or a travel case slot, so they lay on my dresser, defying my sense of order and cleanliness. I find that mildly irritating. Wouldn't buy double-sided design unless they came with a storage case/sheath or brush caps/covers. Depends on your preferences, but a design feature worth consideration before purchasing."
"So soft and not overly dense so it picks up product without making it too saturated on the skin when you bronze. Instead it really helps spread bronzer out for a more natural glow without all the extra work of sheering out product incase you used a little too heavy of a hand to begin with."
ecotools story
Sign Up for EcoTools
Sign up for EcoTools' EcoInsiders newsletter in the bottom right corner of the brand's website to be first to know about promotions, giveaways and new product launches. Also, follow EcoTools on Instagram at @ecotools where the brand often organises special giveaways, promotions and announces new releases.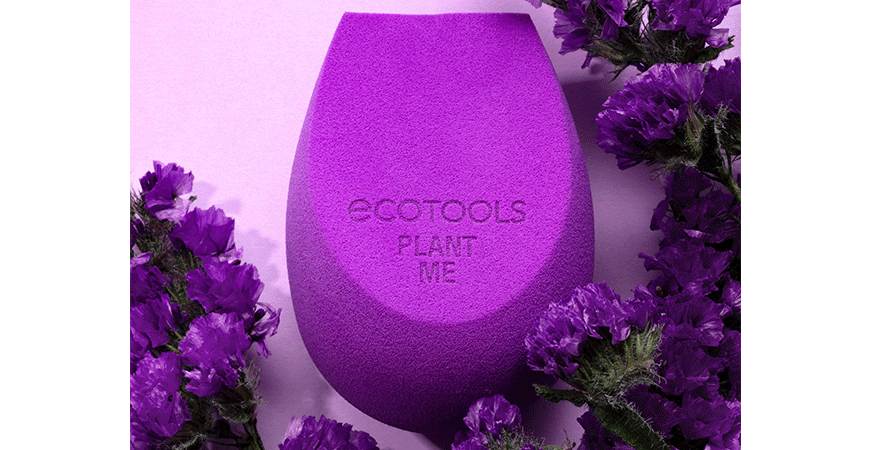 sign up here
Where to Buy EcoTools
EcoTools is available worldwide through its many retail partners, including Amazon. In the US, it is also stocked at Ulta, Walmart, Target and iHerb among many others. Check the Where to Buy section on the company's site for the full list of stockists. However, EcoTools doesn't sell its products directly through the website or its own physical store. But the site does include all of the products and their descriptions, along with direct links to a number of retailers through which you can purchase said item.
where to buy
EcoTools Shipping and Return Policy
As EcoTools doesn't sell its products directly to customers, it doesn't have a shipping and returns policy of its own. Therefore, this will depend on the retailer you will choose to purchase the brand's products through.
Contact EcoTools
If you feel like there are still questions that have been left unanswered by this in-depth EcoTools review, feel free to get in touch directly with the brand's customer service team who will be happy to assist you and answer any queries. You can contact them via:
Email at ecsupport@parispresentssupport.com
Call at 1-844-284-0778 from Monday to Friday between 8am – 4:30pm CST
Fill out the contact form on the EcoTools website
Instagram
Facebook
YouTube
EcoTools: Editor's Verdict
EcoTools is an innovative brand that clearly has the best interest of the planet and its customers at heart. Not only that its range of beauty tools is made from sustainable materials, the brand goes above and beyond to make the products affordable (with its products often being cheaper than their non-sustainable counterparts), high quality and effective, all of which we very much appreciate. And as we know, it is very difficult to do since going the sustainable route is usually rather costly for brands and in result, for its customers. The only room for improvement we can think of is in the brand's plastic packaging which EcoTools addresses and explains that it is for hygiene purposes that they decided to still keep some plastic in its packaging, while cutting out 88% of it last year.
So now to the main question – is EcoTools worth the investment? To which, we can honestly say yes, based on everything we've learned about the brand thus far.
shop now
The post EcoTOOLS Review appeared first on BeautyBets.