Beverly Hills MD Review
Looking good is big business but not everyone can afford the Hollywood A-list beauty treatment. Or perhaps you can, if the widely rated Beverly Hills MD range is within your price range. Founded by two cosmetic surgeons, this skincare range aims to offer cutting edge anti-aging products without the sky-high salon price. But this still doesn't make them low budget.
So, is the Beverly Hills MD product range worth the premium price-tag?  If you are concerned about the signs of aging and stress on your skin, then adding some Beverly Hills MD to your bathroom cabinet could well give you the results you are hoping for. And their use of premium ingredients is impressive, as is their science-backed approach to skincare.
In this review, we peek beneath the Beverly Hills MD gloss and packaging to explore the company's philosophy, its product range, and ingredients, as well as those tell-all customer reviews so you can decide whether this is the skincare range for you.
visit Beverly Hills MD
About Beverly Hills MD
Behind Beverly Hills MD are John Layke and Payman Daniel, two cosmetic surgeons who met during their residency at New York's Nassau University Medical Center. The duo had already developed a strong reputation in their chosen field before deciding to get together to set up their own company. In 2014, Beverly Hills MD was born.
Making the City of Angels their base, Beverly Hills MD was created to provide solutions to support women and men 'to feel and look their very best'. Layke and Daniel draw on their 10 years of plastic surgery experience to develop at home skincare products to target specific skin and ageing concerns. Thanks to their innovative formulations, using proven active ingredients such as saw palmetto, vitamin A and fruit extracts, their products are also safe for all skin types. Many ingredients are organic too, and the company is animal cruelty free.
Key skin concerns the Beverly Hills MD product range aims to address include scar reduction, wrinkles, acne, dullness, and sagging. They also offer formulations to enhance your skin and features, including eyes and brows.
Beverly Hills MD prides itself on being able to offer professional-grade skin care for both the face and body which can be used at home. And while the range is a premium product, it does come in at a relatively affordable price-point, considering its quality and scientific background.
Pros and Cons
With a clear philosophy, backed by the experience of two cosmetic surgeons, the Beverly Hills MD approach has not got unnoticed. We dig a little deeper to highlight the brand's main benefits and disadvantages.
Pros
Formulas backed by science and cosmetic surgery expertise
A good range of products to tackle all the main skincare and aging concerns
High quality active ingredients, many organic
Range also includes vitamin and dietary supplement range
No animal testing and cruelty free
Impressive 60-day money back guarantee on all Beverly Hills MD products
Socially-minded – the company supports Smile Train, a charity that provides cleft lip/palette corrective surgery for children
Cons
A more expensive range compared to similar online brands
Information on their shipping and returns policy is difficult to find
Can be a little intimidating to first time premium skincare brand users
Product Review
From fuller eyebrows and tackling pigmentation to plumping, hydrating, and filling wrinkles, there is a Beverly Hills MD product – or combination of products – for most skin concerns and types. Here are six of the brand's current bestsellers.
Lift + Firm Sculpting Cream
One of Beverly Hills MD's core products, we like the double action of this anti-aging cream, as it lifts and firms while it hydrates. The result, says many of the customer reviews, is a visible impact on the skin, with many reporting some tightening to create a rejuvenated, more sculpted appearance. Lift+Firm Sculpting Cream uses an exclusive blend of amino acids, tightening fruit extracts and collagen supporting ingredients to boost natural elasticity and create more firmness in the skin on both the face and the neck. Think of it as a natural support system for your skin's internal structure and you can see how it can work to create a more youthful appearance.  And, with 4.78 out of 5 on the brand's own website, this hardworking cream has its fair share of fans.
Suitable for all skin types – but especially mature skin – Lift + Firm Sculpting Cream needs to be applied twice a day and massaged into the skin. Night-time application should be prioritized as the formula's active ingredients can support your skin's own regeneration process while you sleep.
For all this sculpting and lifting, you can expect to pay a price, as each 5.6-ounce jar costs $120 but a little does go a long way. And you can also save up to $12 per jar with Beverly Hills MD's multi-buy offer.
check availability
Dark Spot Corrector
As your skin ages, it can develop patches of discoloration and uneven pigment, such as age and sun spots. But with Dark Spot Corrector, you have a light gel which can work to help reduce the look of dark pigmentation, leaving your skin brighter and more radiant. And all without bleaching or irritating the skin.
Dark Spot Corrector uses a concentrated blend of natural ingredients, including vitamin C-rich Kakadu plum, vitamin B which protects against environmental damage and skin-evening daisy flower extract, to create a light, cool gel which rapidly absorbs into the skin.
Dark Spot Corrector can be applied up to three time daily, depending on how severe the dark areas are. And for best results, you should also exfoliate your skin at least twice a well to allow the gel to penetrate more effectively to do its brightening work. An SPF moisturizer is also recommended.
A 30ml bottle of Dark Spot Corrector will set you back $129.95, so this is one of the most expensive products in the Beverly Hills MD range.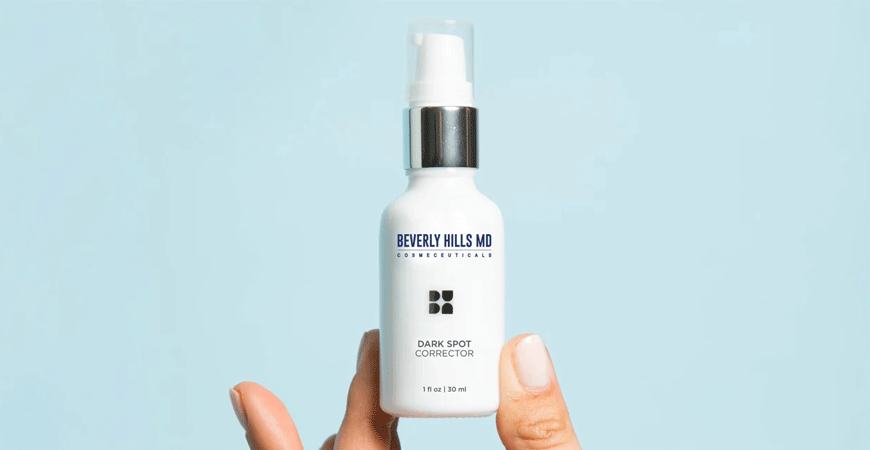 check availability
Deep Wrinkle Filler
Now on to one of Beverly Hills MD's consistent bestsellers, Deep Wrinkle Filler. The aim of Deep Wrinkle Filler is to erase those pesky wrinkles and creases that can be found across the forehead, between the eyes and around the mouth. And the beauty of this lux-feel product is that not only can it soften deeper wrinkles on application but with regular use works to improve the skin's texture over time. And this means you should get both short and long-term results.
So, what ingredients make this such a wonderful addition to your anti-aging skincare routine? First up, it has a polymer blend which instantly 'fills' out the appearance of deeper lines on contact for day-long confidence.  Then there is diamond powder which reflects light away from the skin to disguise the look of any wrinkles. And for a longer effect, there is also a special formula called Tightenyl, which has been designed to improve the texture of the skin for a smoother, more youthful appearance.
Using Deep Wrinkle Filler is quick and easy, all you need to do is apply a small amount to deep wrinkles or fine lines and gently pat with a clean fingertip into the skin. However, you do need to leave the product to dry – around one minute – before applying your makeup.
A 0.6-ounce tube of Deep Wrinkle Filler will cost $125, although you can make some savings on the multi-buy deal via Beverly Hills MD's website.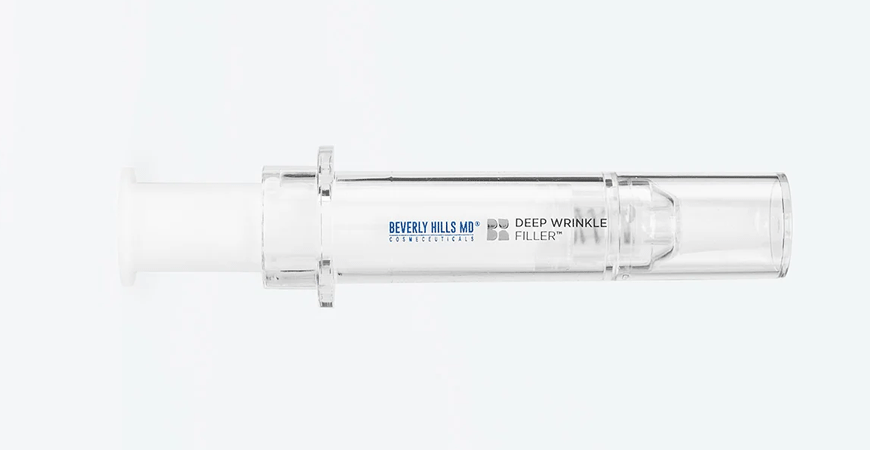 check availability
Ultra Firm Lifting Eye Mask
Your eyes are the window on your world, but they are also one of the first areas to show the first signs of aging. Which is why Beverly Hills MD have developed their Ultra Firm Lifting Eye Mask to help correct all those tell-tale signs. Each mask is pretty potent but is gentle on your skin to give you a relaxing eye treatment that also helps to stimulate the circulation in the surrounding skin.
And it works hard too, as it tackles not just fine lines, but also lifts, reduces the appearance of crow's feet, plumps thinning skin and reduces under-eye bags. Like many of their products, Beverly Hills MD has come up with their own problem-specific formulas, including BeautifEye, which lifts saggy eyelids and 'UnisoothTM EG-28' which helps to fade dark circles and reduce puffiness. You also get Rhodiola Rosea Extract, a proven antioxidant that is effective in hydrating and energizing the delicate skin around the eyes.
Each eye mask has been designed for optimum coverage and needs to be worn for 15 minutes to allow the serum to penetrate the skin. For best results, you are advised to use every two days, but as there 15 mask pairs in each box, you should get a month's use per pack. But this comes at a price, as a box of Ultra Firm Lifting Eye Mask retails at $128, with a saving of $20 per box if you buy three at once.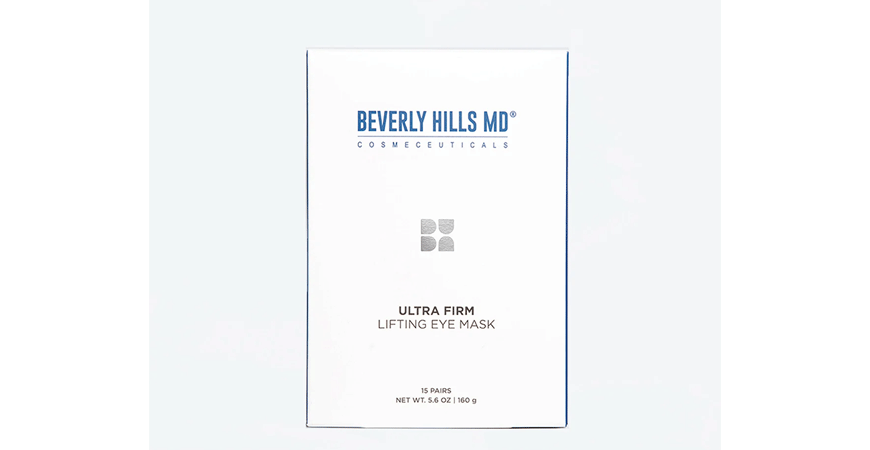 check availability
Thick + Full Brow Enhancing Serum
Full, shapely eyebrows are here to stay, so if you have thinning brows, or over-plucked in the past, a serum can help to bring them back to life. And with Thick + Full Brow Enhancing Serum, you can be sure you are using a hormone-free formula that is safe for all eyebrows.
Easy to use, this advanced formula needs to be applied daily for the best results and gives the follicles of your eyes a real nutrient boost to help them grow and thrive. With active ingredients such as polyphenols, proteins, and vitamins as well as fruit extracts, Thick + Full Brow Enhancing Serum can help to make your brows look thicker and fuller as well as more natural. It can also be used on eyebrows that have thinned due to age. A slick of this serum is all you need, and the formula also helps to gloss your brows and make them shine with health.
Results can vary, although many customer reviews show that improvements can be seen in as little as three-four weeks. However, this is not the cheapest eyebrow serum you can buy as Thick + Full Brow Enhancing Serum cost $88 per tube.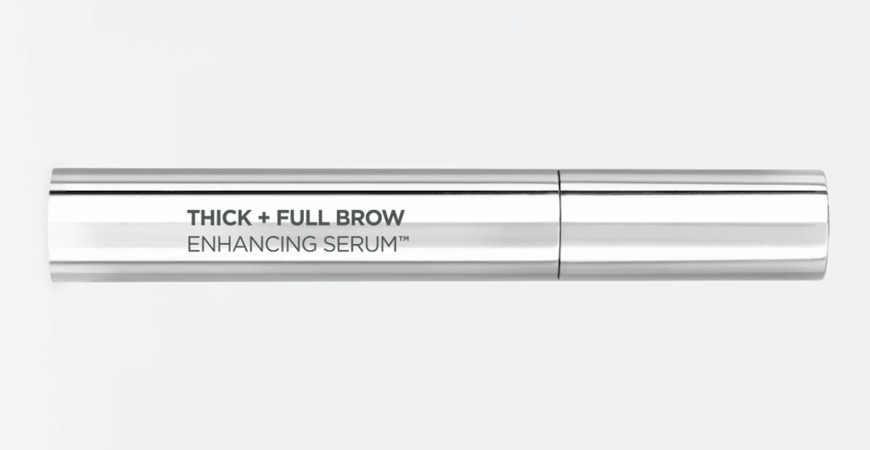 check availability
Crepe Correcting Body Complex
And finally, to a product from the Beverly Hills MD body range. And one that aims to tackle a very specific concern – crepey skin. Typically found on areas such as the arms, knees, stomach and decolletage, as well as the hands, loose, creased skin can make you look prematurely aged, or emphasize the appearance of loose, older skin.
The Crepe Correcting Body Complex is a deliciously rich formula that intensely moisturizes at a cellular level while it works to firm and improve the look of crinkled skin on the body. With key ingredients including niacinamide, which supports the body's natural production of skin-firming collagen and protein, this high-quality complex also contains Beverly Hills MD's own formula, Hydrafirm.
Packed with skin-boosting algae as well as hydrating and smoothing ingredients such as lentils, apple and watermelon, Crepe Correcting Body Complex is a crepe-busting powerhouse that is also a delight to use. Used daily, your skin should feel softer, smoother, and beautifully hydrated. Suitable for even sensitive skin, Crepe Correcting Body Complex costs $100 for a 118ml jar.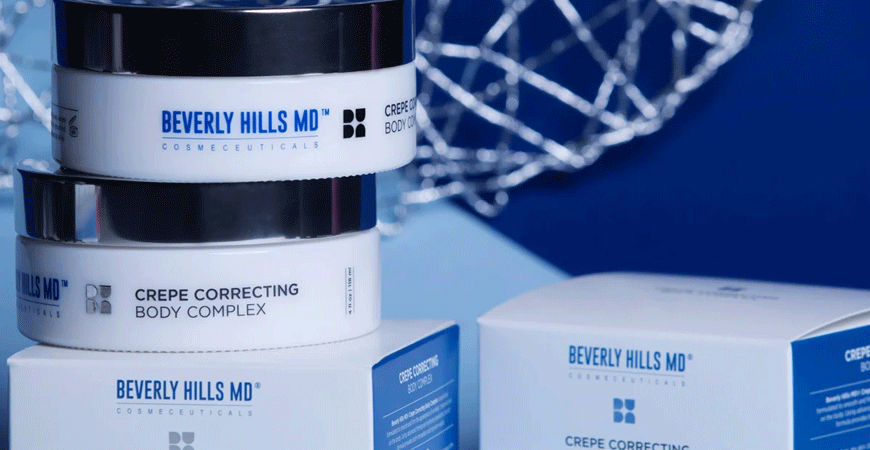 check availability
Beverly Hills MD Customers Reviews
If you look online or in the fashion magazines, there is clearly a buzz around the Beverly Hills MD range, and the two co-founders are adept at publicity to promote their brand. But ultimately, it is down to the user and their experience of the Beverly Hills MD product range that really counts as to service, quality and ultimately, results.
Overall, customer satisfaction is high, with the range scoring on average 4.5 stars out of five, both on Beverly Hills MD's own website and independent review sites such as Site Jabber and Trust Pilot. It's clear that some of their classic products, such as Deep Wrinkle Filler have loyal fans, and overall, their Beverly Hills MD range do show results, albeit of varying degrees.
Here are just a few examples: "It has unquestionably and undeniably altered my deep wrinkles around my mouth…"; "I have found this product works so well and improving the texture of my skin, after only one week"; "My skin is tighter, lifted and younger looking in just a few days. And wrinkles are extremely lessened"; "This Lift & Firm Sculpting Cream has definitely shown results"; "I was about to get Botox for them, but I thought I would give Deep Wrinkle Filler a try."
From the full product range, it seems that Beverly Hills MD's face masks, serums and anti-aging creams were repeatedly acknowledged for showing results.
However, the same cannot always be said with the company's customer service, which appears to be the main bone of contention when it came to any negative reviews. And it is the company's return policy and shipping times that attracted the most comment on Site Jabber and Trust Pilot, such as: "I have canceled my subscription due to the poor customer service"; "I noticed they make it extremely difficult, despite the videos saying no questions easy returns"; "I ordered to Australia a month ago and have still not received my item."
learn more
Where to Buy Beverly Hills MD
All the Beverly Hills MD product range can be bought directly from their own website as well as a few online retailers, the largest being Amazon and Walmart. However, you are only covered by the company's 60-day money back guarantee and access to their VIP discounts if you buy direct from www.beverlyhillsmd.com
beverlyhillsmd.com
Beverly Hills MD Shipping and Return Policy
The shipping and returns policy of Beverly Hills MD is not immediately obvious on the website, and it takes some digging to find the information before you decide to buy.  But in a nutshell, you can get free shipping on all orders over $39, but only if you live within the US.
Their return period is generous – 60 days – and it covers all their product range, if you are unhappy in any way. However, the kicker is that while you will get a full refund, you as the customer will have to pay all the return shipping fees. And this 60-day refund policy only applies to products bought directly from the Beverly Hills MD website.
To start the return process, you also have to contact the customer service team directly first.
Contact Beverly Hills MD
The main way to contact the company is via the Beverly Hills MD website – beverlyhillsmd.com – or email support@beverlyhillsmd.com To speak directly to a member of the customer service team, you should call 1-877-828-5528
You can also keep in touch with all the latest Beverly Hills MD news and offers by signing up as a VIP and receive their e-newsletter, where discount codes for members only are also promoted.
contact Beverly Hills MD
Beverly Hills MD: Editors Verdict
If you are looking for a boost to your skincare routine and want science-inspired products that actively tackle the most common anti-aging and skin concerns, then Beverly Hills MD has a lot to recommend it.
With two surgeons behind the company and its philosophy, there is definitely a cosmeceutical approach to the brand's formulas which can inspire confidence in the user. And overall, customer reviews indicate this is a skincare brand that can achieve results, although they do vary and there is a limit to what these 'over-the-counter' products can achieve.
For tackling fine lines, plumping, hydrating, and boosting, the Beverly Hills MD range is worth considering, especially if your budget doesn't stretch to cosmetic surgery or surgery is an avenue you would never go down. But as everyday skincare, this is an expensive line, particularly if you have several skin concerns you are looking to address.
We do like the quality of the ingredients however, and the formulas are pretty impressive without being harsh on the skin. In fact, the whole product range is animal cruelty free, which is a selling plus.
As a skincare line, it does seem to be focused on the older customer who is looking for improvements in the look, feel and overall health of their skin. These customers also seem to be drawn to and reassured by the experience and knowledge of the company's founders as well as the more scientific approach to skincare. And the growing reputation of Beverly Hills MD as a premium skincare brand that has the skills, ingredients, and know-how to tackle the main skin concerns can help to soften the blow of the higher price-tag.
shop now
The post Beverly Hills MD Review appeared first on BeautyBets.