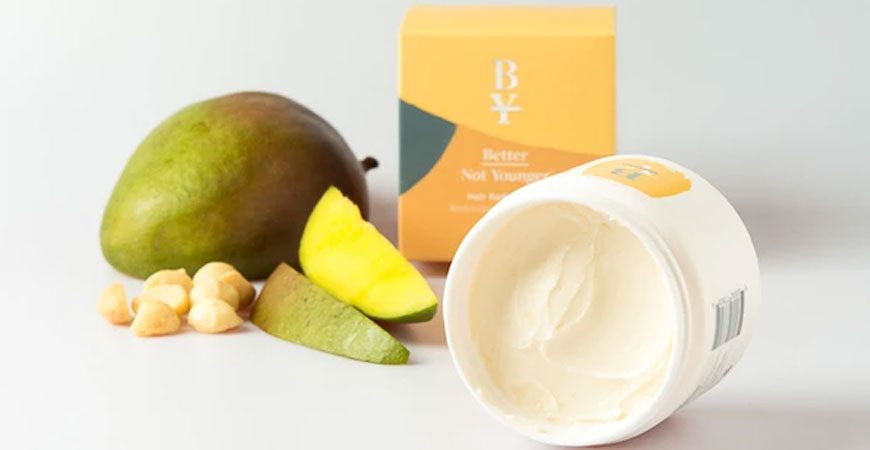 Better Not Younger Review
While aging comes with many benefits– including higher self-esteem, better perspective, more patience and humility, just to name a few – there's no denying that it also comes with some unwanted things. Generally speaking, rare are the people who would choose to have wrinkles over smooth skin, or thin and limp hair over luscious, thick locks. Alas, we all must age; but when you consider the alternative, aging is a privilege indeed! Why, then, are there so few beauty and personal care products for mature women? Better Not Younger is one of the newest brands to ask – and answer – this question.
When they're not underrepresented, women over 40 are misrepresented by the beauty industry: boxed into oversimplified images that minimize their complex personalities in order to sell products or agendas. Just think about it – how many "antiaging" products (specifically for women) have you seen lately in your local drugstore or on TV? Dozens, if not hundreds. It appears that youthfulness is the only standard the current beauty industry celebrates. The good news is, Better Not Younger is one of the brands looking to change the beauty landscape for mature women.
With hair, eyebrow and lash products specifically designed for women over 40, the brand's mission is to empower more mature women and help them feel better (not younger) in their bodies. Featured in numerous popular media outlets, including Forbes, Allure and NBC, the company is slowly but surely growing in popularity and rave reviews. But are they the real deal? To help you decide if this brand's products might be a good fit for your tresses, we give you our detailed and unbiased Better Not Younger Review.
visit Better Not Younger
About Better Not Younger
Better Not Younger was founded in 2017 by a woman on a mission to change the beauty industry, Sonsoles Gonzales. After 25 years of working for major cosmetics brands like Procter & Gamble and L'Oréal, Gonzales decided to launch her own company, one that would cater to the hair needs of mature ladies like herself. Better Not Younger's goal is, on the one hand, to help women look and feel better as they age, and on the other, to change the narrative about women and aging in general.
Since Gonzales has spent years running the global Pantene business, she knew from firsthand experience that hair is one of the most important things that factor into how women feel about themselves. And, as we all know, the hair changes as we age: it gets slightly thinner, more brittle and drier, and of course grayer, all of which can lead to a not-so-great-looking head of hair. Better Not Younger's mission is to not only talk unapologetically about this, but also to help women counterbalance these changes with clean and nourishing hair care products specifically designed for such concerns.
Some of the products the company offers are shampoos, conditioners, scalp treatments, supplements, styling products, and even lashes and brows products.
Pros
Haircare and styling products specifically designed for women over 40
An extensive range of hair care treatments, products and supplements
Made with the finest, highly effective ingredients and free from sulfates, parabens
Cruelty-free and 100% vegan
Free shipping on all U.S. orders
Money-saving bundles and subscriptions available
The Better Blog is a wealth of information on hair health
Cons
Still a new brand, so limited reviews outside of the brand's website
On the pricy end of the scale
Better Not Younger Product Review
Wake Up Call Volumizing Shampoo
If you struggle with flat, lifeless hair that is very prone to breakage, fear not because Better Not Younger has the shampoo just for you. Wake Up Call Volumizing Shampoo is a gentle, sulfate-free shampoo specifically formulated for women over 40 to increase hair's body and fullness while strengthening thin strands to prevent breakage.
Free from sulfates and parabens but packed with nourishing, effective ingredients, such as burdock root, panthenol, sage, bamboo and hops, this Better Not Younger shampoo is clinically proven to reduce breakage by 95%. According to the brand, aging hair is typically dry, so unlike most volumizing shampoos available on the market, this formula doesn't dry out the cuticle to achieve that full effect; instead, it gently cleanses the scalp while moisturizing the aging stresses, adding volume and fullness.
Burdock root is a powerhouse of antioxidants and nutrients, including vitamin A, potassium, iron and essential fatty acids, helping nourish both your hair and scalp. Bamboo is plentiful in minerals like manganese and copper, as well as silica, helping strengthen your strands and prevent breakage. Hops are rich in flavonoids and act as a natural conditioner, supporting thicker- and smoother-looking hair. Sage, on the other hand, is a natural astringent, so it helps unclog hair follicles and fight inflammation.
At $27 for a one-time purchase (or $22.95 when subscribed), this volumizing shampoo justifies its price. Yes, it's pricier than your average drugstore shampoo, but it's packed with goodies that can not only add fullness and body to limp hair, but also prevent breakage and support scalp health. As a bonus, a small amount goes a long way as it lathers nicely. The formula is also safe for color-, chemically- and keratin-treated tresses.
check availability
Wake Up Call Volumizing Conditioner
For voluminous and bouncy hair, it's best to follow Better Not Younger's Wake Up Call Shampoo with the Conditioner from the same line. Lightweight yet deeply nourishing, this sulfate-free conditioner brings life and shine to limp, thin hair, leaving it smooth, thicker-looking and shiner without weighing it down.
Made with healthful ingredients such as burdock root extract, hops extract, apigenin, bamboo, tripeptide complex and oleanolic acid, this scientifically concocted conditioner really helps "feed" your dry, dull locks, promoting fullness, moisture and shine, as well as good scalp health.
As we've already delved deeper into the benefits of certain ingredients of the shampoo in this line, we'll skip those here and focus on the new ones in the conditioner. What drew our attention the most is the Tripeptide Complex, which is an amino acid described as a growth factor; in the conditioner, it has some hair growth benefits, plus overall follicle health perks thanks to micro-circulation effects it has on the scalp. Apigenin is another interesting addition; this natural flavone, which is found in many plants including chamomile, has great antioxidant benefits and anti-inflammatory properties, promoting scalp health and hair growth. Oleanolic acid, which is a botanical extract found in basil, apple, olive oil and garlic, has also been shown to promote hair growth and prevent hair loss as it helps inhibit DHT.
Overall, this seems like a fantastic conditioner for women over 40 as it's packed with beneficial ingredients and nutrients that not only help add some volume to hair, but also prevent hair loss and promote hair growth. The $27 price tag is certainly on the pricier end of the scale, however, considering the hard-to-come-by but truly effective and nourishing ingredients the conditioner contains, we feel it's justified.
check availability
Superpower Fortifying Hair & Scalp Serum
Better Not Younger hair care doesn't stop at shampoos and conditioners; the brand also offers a number of scalp care treatments and products. One of their such treatments is the Superpower Fortifying Hair & Scalp Serum, a best-selling and award-winning formula exclusively designed for ladies over 40.
Featuring a powerful blend of effective ingredients for scalp care, including ginger, caffeine, niacinamide and Centella Asiatica among others, this hair serum boasts a triple action: it prevents hair loss, rebalances scalp oils, and promotes new hair growth. The serum is also very lightweight and fast-absorbing so it's easy to use. And, according to the company's website, 4 out of 5 women report seeing less hair fall and having stronger hair after 8 weeks of use.
So, what is this award-winning scalp and serum made of? Niacinamide, also known as vitamin B3, has various skin and hair beneficial properties, including boosting circulation and nourishing scalp and hair follicles, plus enhancing the feel and appearance of hair strands. Caffeine, on the other hand, not only stimulates hair growth but also helps prevent hair loss, thanks to its DHT-blocking properties. Centella Asiatica, also known as tiger grass, helps soothe the scalp and strengthen the hair follicles. Ginger is another circulation-boosting ingredient this serum contains, while apigenin further stimulates hair and nourishes the scalp. Other healthful ingredients include castor oil, ceramide-ng, oleanolic acid, hops, licorice, seaweed and chamomile extract, vitamin C, vitamin A, and more.
By using this serum every day, you should see improvement in your hair thickness and strength in about 8 weeks. While super-packed with scalp and hair beneficial ingredients, we can't help but wonder if the serum is really worth it. After all, it's priced at $47 and one bottle lasts about 4 weeks if used as recommended. The good news is, you can get it at $39.95 if you subscribe.
check availability
Lift Me Up Hair Thickener
If you feel like your hair could use extra body and volume, especially at the roots, you may like Better Not Younger's hair thickener. This is another one of the brand's ultra-effective as well as award-winning formulas that is supposed to transform thin and limp strands and turn them into voluminous, thicker-looking locks.
Lightweight and packed with hair-thickening ingredients, this spray will instantly lift your hair at the roots, adding body and weightless volume. As a bonus, it will also nourish your tresses and support scalp health thanks to its skin and hair beneficial ingredients.
So, what's it made of? The main active ingredients in this thickening hair spray include ceramide – NG, wintergreen essential oil, niacinamide and biotin. The ceramide – NG is an essential fatty acid that keeps the cuticle closed and smooth, helping your hair strands retain moisture. Wintergreen essential oil is great for scalp health as it has natural astringent properties, helping remove greasiness and strengthen the strands. Niacinamide, also known as vitamin B3, helps boost circulation, making it beneficial for your scalp and follicles, plus it enhances the appearance and feel of hair, making it shinier and more supple. As for biotin, it helps boost the overall hair condition.
The spray comes with a precision nozzle, so it's really easy to use exactly where you need it. At $34, we'd say it's fairly reasonably priced as you don't need a lot to add quite a bit of volume.
check availability
Hair Redemption Restorative Butter Masque
For aging hair that feels coarse, dry and brittle, Better Not Younger have developed this plant-based butter mask called, rather aptly, Hair Redemption Restorative Butter Masque. A blend of various powerful hair-beneficial plants, oils and vitamins, this hair mask has deep-conditioning properties, helping bring back luster and shine, and boost overall hair condition for smoother and more manageable locks.
The main active ingredients in this thick and creamy conditioner include a plant-based butter blend of mango, macadamia, avocado, cupuaçu, murumuru, plus biotin, caffeine and argan oil. The plant-based butter blend is of particular importance as it brings excellent nutrients to the strands, helping not only nourish them but also protect them from environmental damage. Argan oil is another fantastic addition as it's packed with fatty acids and vitamin E, helping hair retain moisture and shine.
Suitable for all hair types, including color-treated tresses, this hair mask comes with a $35 price tag.
check availability
Better Not Younger Customers Reviews
Finding the right hair care products and routine can be tricky for everyone, but especially for women over 40 who sometimes have to deal with hair thinning, more frizz and drier and more brittle strands. While Better Not Younger's products certainly sound promising, the best way to see how a brand performs in reality is to look at customer reviews.
Now, since Better Not Younger is a relatively new company, they don't have a ton of reviews yet. So, to provide you with a well-rounded customer impression of the brand, we looked at a couple of different websites where customers can post their unbiased reviews, including MakeupAlley and Sephora.
On MakeupAlley, both Wake Up Call Volumizing shampoo and conditioner have a 4-star rating, however, only one review.
Thankfully, a number of products sold at Sephora have more reviews, including a Superpower Fortifying Hair & Scalp Serum, which boasts a just over 4-stars rating from 156 reviewers. One pleased customer writes: "The serum has helped my hair grow stronger. My hair is fine and brittle but since I have been using the serum I have noticed that less hair is falling out. I love the serum applicator, it is easy to use!"
The Lift Me Up Hair Thickener is particularly loved by customers and on Sephora, it boasts a 4.5-star rating from 128 customers. One happy buyer writes: "Great gift! – Great for thin hair, really gives you a boost. Smells great and easy to use. Really does work and even purchased for my neighbor! Would recommend for anyone who's looking for a boost."
The Butter Mask also has an over 4-star rating and most customers seem to absolutely love it. But for good measure, let's take a look at one not-so-happy 3-star buyer's comment: "This hair mask works great for hair! A rapid mask that worked in 3 minutes and left my hair so smooth and silky. However, it has a fragrant scent of my grandma's ancient perfume. Smells like an old lady's perfume. But it works wonderful!"
Overall, Better Not Younger reviews seem to be highly positive and most customers are not only pleased with their orders but would highly recommend the brand to their friends and family.
customer reviews
Sign Up for Better Not Younger
If you like Better Not Younger's philosophy and products, you can sign up for their club that rewards you every time you shop. The program is super-easy, and all you need to do is create an account to get started. Every time you shop, you'll earn points that you can later redeem for exclusive discounts.
You can also subscribe to the brand to have products automatically delivered on your schedule, saving 15% on most products.
sign up
Where to Buy Better Not Younger
You can buy Better Not Younger's hair products directly from their website better-notyounger.com. Sephora also sells many Better not Younger products.
better-notyounger.com
Better Not Younger Shipping and Return Policy
The brand offers free shipping on all U.S. orders while international shipping costs vary depending on where the products are being sent. Typically, U.S. orders are fulfilled within 1 to 2 days, while shipments take between 5 and 8 days. International orders may take longer depending on the customs process of each country.
As for the return policy, it's quite generous: the company is happy to issue a full refund of the purchase upon receipt within 30 days of the purchase date. The refund doesn't include shipping and handling though. Of course, to be eligible for a refund, the products must be unused or less than 1/3 used. Also bear in mind that the customer is responsible for return shipping.
Better Not Younger Promotions & Discounts
For our Better Not Younger review, we scoured the Internet for promotions and discounts, and we are happy to say that the brand itself offers quite a few ways to save money.
For one, if you join the Better Not Younger club, you get rewards every time you purchase something. You can also save around 15% on most products if you choose to subscribe to the brand. Additionally, it's good to know that orders over $100 are eligible for a Deluxe Minis Kit for $10.
Learn more
Contact Better Not Younger
If you have any questions that our Better Not Younger review hasn't answered, you can contact the company in any of the following ways:
By filling out a contact form on their website
Calling them: +1 (800) 406-3026
Emailing them: contact@better-notyounger.com
contact Better Not Younger
Better Not Younger: Editors Verdict
If you're struggling with lackluster, thinning hair and want products specifically formulated for aging hair, Better Not Younger is definitely worth it. Their products and treatments are made with highly effective ingredients that actually work and can be difficult to come by in regular drugstore products. Another great thing about this company is their stance on women and aging – unlike many popular brands that practically shame women for aging – a perfectly natural process we all are destined to go through if we're lucky – Better Not Younger unapologetically talk about the changes that come with aging and best ways to deal with them.
While they're certainly more expensive than your standard hair products, Better Not Younger hair care products are formulated with highly effective, clean ingredients so not only are they vegan and cruelty-free, but they're suitable for sensitive skin as well.
shop now
The post Better Not Younger Review appeared first on BeautyBets.