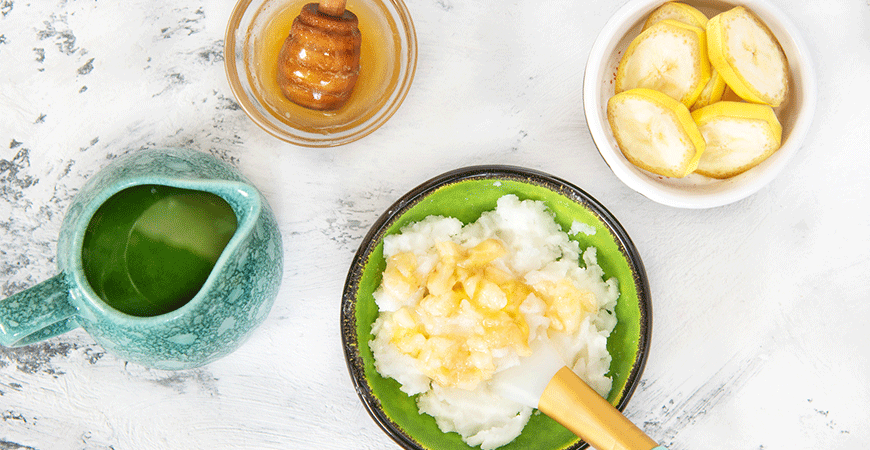 5 DIY Hair Masks for Every Hair Type
We can all have our bad hair days but sometimes your hair needs a little extra treat. And with a homemade hair mask, you can indulge your stressed, heat damaged or uncooperative hair without it costing the earth. All you need are a few ingredients from your store cupboard and a little me time and you can quickly bring some much needed va va voom back to your hairstyle.
To inspire you, we've put together the recipe for hair success with our five DIY hair masks for every hair type.
Reasons Your Hair May Need a Treat
Modern life can be super tough on our hair. And with repeated use of curling irons, blow dryers or hair straighteners, our once lush hair can start to look – and feel – a little sorry for itself. Whether you have straight, curly, thick, or fine hair, a little TLC can help protect against heat and moisture loss as well as repair any damage that may already be done. And top of the care and repair list is a deep treatment in the form of a hair mask.
The beauty of a DIY hair mask is that not only is it an inexpensive way to condition your hair – whatever its type – but also means you know exactly what you are putting on your crowning glory. And a natural hair mask can be made for most hair issues, all in the comfort of your own home.
Our Best Five DIY Hair Masks
Using natural ingredients that are packed with hair-boosting nutrients and goodness, these five delicious DIY hair masks can help you solve all your main hair care concerns. So, get ready to say goodbye to unhappy hair and hello to luscious locks that bounce with health!
Banana and Olive Oil Super Hydrator
Best for: frizzy, dehydrated hair
If you have past their best bananas in your fruit bowl, don't throw them away as they are the ultimate frizz buster for overly dry or unruly hair! Bananas are packed with potassium, which helps to boost your hair's shine, strength, and condition as well as amino acids and silica, which smooth down the cuticles, leading to much more manageable hair.
This banana hair mask recipe also contains deeply moisturizing olive oil to nourish dehydrated locks. You can also keep it two-ingredient simple or add honey which helps to reduce breakage and adds a lovely shine.
What To Do:
Place one ripe banana in a bowl and mash it with a fork, adding a tablespoon of olive oil, ideally virgin. Now blend the mixture well until it takes on a frothy appearance. If you are wanting to add honey, then drizzle in around a tablespoon at this point and mix well. And if you are prone to weak hair, adding a raw, well beaten egg to the recipe can help to support the proteins in the hair shaft and nourish the cuticles.
Apply the mixture to your dry hair, starting at the roots and working in through to the ends and leave for around 20 minutes before thoroughly rinsing.  This is a good hair mask for damaged hair that can be used weekly for best results or use as an overnight hair mask for even deeper conditioning.
Avocado, Coconut, and Honey Hair Reviver
Best for: curly or dull hair
Rich is essential fatty acids that deeply moisturize, avocados are a superfood for hair and make the perfect ingredient for a nourishing hair mask that leaves your hair soft, luminous, and full of life. The added coconut also boosts moisture levels while sweet honey is a wonderful natural hair glosser. Best used before your usual shampoo and conditioner this rich avocado hair mask is perfect for reviving curly, wavy, or generally unhappy hair. It works as an excellent detangler too!
What To Do:
You'll need one large, ripe avocado, two tablespoons of coconut oil plus a tablespoon of coconut milk plus a tablespoon of honey. Mash all the ingredients together in a bowl with a fork before mixing thoroughly until it resembles a milky green paste. A small brush you would use to apply hair dye is the best way to apply this at home hair mask; with your hair parted into four sections, carefully paste on the mask from the root to hair ends, smoothing with your hands as you go to ensure full coverage.
Now pin up your hair or cover completely with a plastic shower cap and leave to penetrate for around 30 minutes. You could even sit under a hooded hairdryer if you have one, for a deeper nourishing treatment. Once the time is up, rinse thoroughly before shampooing and finish with a light, leave-in conditioner if required.
Coconut, Honey, and Mayo Deep Conditioning Treatment
Best for: heat damaged or dehydrated hair
The smell of coconut is so evocative, transporting you to tropical beaches in an instant. So why not use that feelgood for your hair, with this deeply nourishing coconut conditioning treatment? Ideal for hair that has been frazzled by over-use of styling tools, coloring or bleaching, this coconut oil hair mask will become your first aid go to when your hair needs some intensive care. And its surprise ingredient – store cupboard mayo – can help to tame frizz caused by dehydration, leaving you with beautifully silky and manageable locks.
Unlike some of the other masks for hair we've listed, this intensive treatment works best on freshly shampooed and damp hair as its nourishing benefits can penetrate deeper into each strand.
What To Do:
Gather your ingredients – you will need two tablespoons of quality coconut oil, half a cup of mayo, two tablespoons of plain, natural yogurt and a generous teaspoon of runny honey. Put all the ingredients in a bowl and then mix thoroughly together until it forms a creamy white consistency.
Now apply to your damp hair, ensuring an even application of the mask from the root to hair ends before taking a wide-tooth comb and raking the product through for complete coverage.
For best results, leave the mask on for one hour – this is a good treatment to do on a lazy Sunday as you can settle down on the sofa with a coffee and a magazine while the mask does its work. Once the time is up, rinse out this hair mask for damaged hair with warm water, then shampoo again before using a lightweight conditioner.
Apple Cider Vinegar and Tea Tree Oil
Best for: dry, irritated hair and scalp
Apple cider vinegar – or ACV – is another kitchen ingredient that naturally cleanses and soothes the scalp and tackles irritation and inflammation, thanks to its anti-bacterial and anti-fungal properties. Which is why it is the perfect base for a soothing, gentle hair mask designed to tackle itchy, flaky scalps.  The added tea tree oil – a natural antiseptic – then helps your scalp to heal.
Combined, they are a wonder duo, and thanks to the tea tree scent, your hair is left with a lovely clean, fresh scent. The beauty of this DIY recipe is that you can also adapt if your hair also needs more nourishing; adding honey and even a raw egg will help to boost the moisture levels as well as strengthen and soothe your hair and scalp.
What To Do:
For the basis of the mask recipe, you'll need around ¼ cup of ACV plus the same in plain water as well as 6-8 drops of tea tree oil (you can switch this oil out for peppermint oil if you prefer). Mix the ingredients altogether then pour into a spritzer so you can spray directly on to your scalp and leave to work for around 30 minutes before thoroughly rinsing out.
For a more moisturizing hair mask, reduce the amount of ACV to one tablespoon swap out the water and tea tree for a teaspoon of honey plus one raw egg. Beat together to create a runny paste then apply to your hair, ensuring your scalp and full length of hair are covered. Leave for up to one hour before shampooing out, and style as normal (do use a little heat protector spray or leave-in conditioner) for revitalized, hydrated hair.
Lemon and Egg White Detoxer
Best for: oily or greasy hair
Greasy lank locks are not a good look, but diet, lifestyle, heat, hormones, and stress can often cause a build-up of unwanted oily shine on your hair. This type of hair needs an occasional detox to bring it back to its best, and for us, lemons are top of the hair detox ingredient list. The main recipe has lemon paired with nourishing egg white that also contains proteins that help to remove excess oil. But if you also have an oily scalp, you could consider adding some lavender oil or mint leaves into the recipe as well as a few drops of aloe vera to help balance the PH levels for naturally healthy hair and skin.
What To Do:
You need just one egg white – you don't want the oily egg yolk in this detoxing mask – plus the juice from half a lemon. If you want to add the extra ingredients, then now's the time to add them in. Blend all the ingredients together in a small bowl then using your hands, smooth the paste on to dry hair, ensuing the scalp and roots are fully covered before working the residue down the length of your hair. Leave to work its oil-sapping magic for 30-60 minutes before rinsing with luke-warm water.
Now get ready to shine and turn heads – for all the right reasons!
The post 5 DIY Hair Masks for Every Hair Type appeared first on BeautyBets.