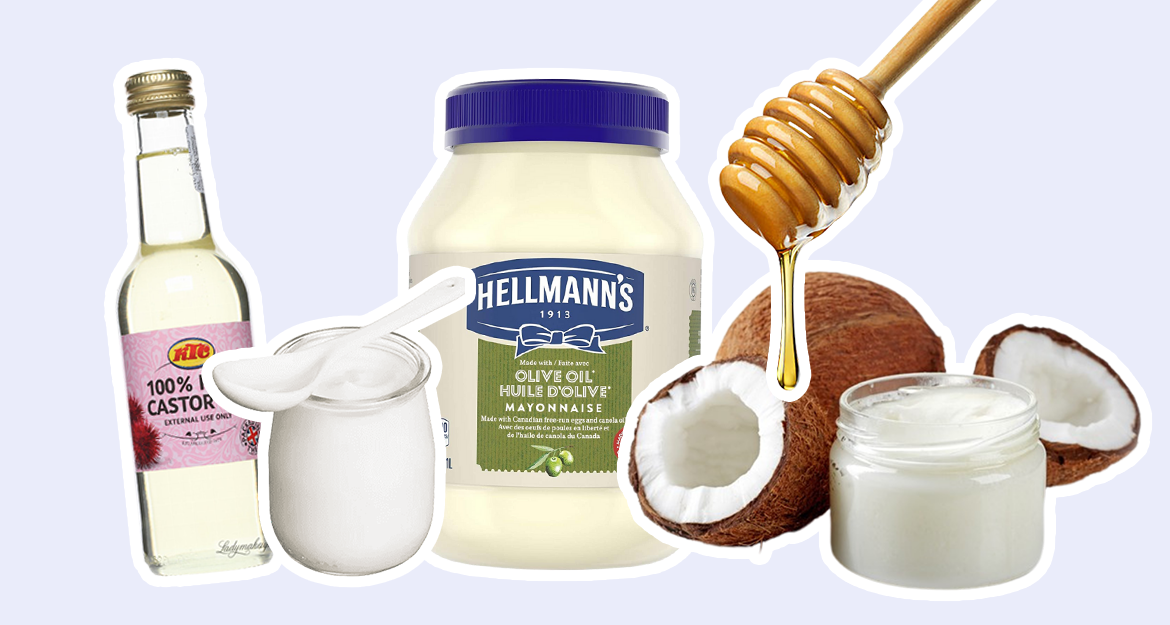 The Hydrating DIY Hair Mask That *Actually* Nourishes Your Hair
If you love a thick, luxe hair mask, but hate the overly expensive price tag, you'll be happy to know your kitchen is already full of powerhouse ingredients for hair—especially for damaged and dry strands.
Those who know their way around a mixing bowl might have some go-to ingredients for DIY hair masks (coconut oil 4ever), but when creating a hydrating hair mask at home, it's important to know the difference between dry hair and dehydrated hair. And why nourishing ingredients are key to solving the deeper problems of dehydration like lack of protein. All that plus your hydrating shopping list below!
What Does Dehydrated Hair Look Like?
To nobody's surprise, hair can get damaged from just about anything—especially the fun stuff, like trying out new hot tools or giving blonde a go. What makes hair dehydrated, on the other hand, is a little harder to pinpoint because it looks and feels similar to dry or damaged hair. But, they are a little different!
Hair that begs for a hydrating hair mask often feels dull, dry, and rough, which might make you think your hair is just dry. But! If you have dehydrated hair, your hair is actually lacking water, not moisture or oil. Where dry hair has been stripped of its natural oils due to chemicals or harsh conditions like UV rays or heat styling.
If your hair still feels dry after the wash process or it feels like moisturizing hair masks aren't making a difference, it's likely you're accidentally treating dry hair as opposed to dehydrated hair which is a deeper lack of water. Simply put, dehydrated hair needs water, dry hair needs oil.
Although, dry hair usually follows dehydrated hair along for the ride, so when creating a hydrating homemade hair mask, use both hydrating and moisturizing ingredients to check off all boxes!
Read Next: How to Hydrate Hair After Bleaching
The Most Hydrating Ingredients For Hair
No need for long curated product listicles when there's tons of amazing hydrating products hanging on your grocery list! For a quick hydrating mask at home or just a rainy day DIY (it'll fight frizz too!) these ingredients are the most beneficial for dehydrated hair.
Mayonnaise
Just from looking at its creamy texture and generally mysterious recipe (like what *is* mayo, really) you can tell it's got moisturizing power in there! And as a matter of fact, it's full of fatty acids, amino acids, and nourishing oils that are hard to find in one bottle like mayo.
One of mayonnaise's main ingredients is eggs, which we know from other amazing hydrating DIY hair masks, provide a ton of protein and other vitamins like: biotin, vitamin A, vitamin D, and choline. All of these work together to nourish hair with fatty acids that penetrate strands with moisture as opposed to just conditioning–which is a little different to hydrating!
Paired with vinegar, lemon juice, and oil (often canola or olive oil) eggs are supplemented with L-cysteine; an amino acid that boosts keratin and allows hair to hold on to moisture better. Not bad for a little sandwich spread.
Read Next: Hair Hydration Treatments to Save Summer Hair
Coconut Oil
Everyone's favourite for a hydrating hair mask at home, coconut oil for hair is no surprise addition to this list! We love it for hair for two main reasons, the undeniable moisture it provides and how easily it soaks in.
The lauric acid found in coconut oil is its most nourishing component that soaks in deep to the strand's cortex. Lauric acid is a medium-chain fatty acid meaning its straight structure allows it to be more easily absorbed into the hair shaft—like better than other oils! Here, you're getting moisture to the inner layers, smoothed frizz, and breakage is tamed.
Read Next: How to Protect Hair From Hard Water
Honey
The sweet stuff for hair hydration, honey is a great hair moisturizer because of its humectant and emollient properties. Humectants, not often found naturally, bond with water molecules and pull moisture in from the environment to dry strands. They also prevent further water loss happening which is crucial for hair that's already dehydrated!
Honey's emollient effect helps smooth the hair follicles, adding shine to dull, dehydrated hair. This means they'll also lubricate your strands, making detangling much easier once it's been washed out. Ultimately, emollients give a protective barrier to hair that needs it most!
Read Next: How To Hydrate Hair (By Hair Type)
Yogurt
Another creamy crown pleasure, yogurt is a perfect addition to any hydrating homemade hair mask in many of the same ways mayonnaise is. The protein found in yogurt, especially thick Greek yogurt, strengthens the hair shaft and prevents it from splitting when it's dehydrated!
Aside from adding hydration and health from mid-section to end, yogurt is also nourishing for follicles with its several nutrients and lactic acid. Riboflavin, niacin, and biotin namely help repair the damage that's been caused by dehydrated or dry hair because of their ability to stimulate blood flow to follicles—later sending it to the rest of those dry strands! Not to mention, with lactic acid you'll be able to clear away dead skin cells from roots for an added bonus.
Read Next: How Scalp Exfoliation Can Fix Your Hair Drama
Castor Oil
At SP, we love castor oil and its benefits for hair hydration. Pressed from castor beans, this is another oil that's packed with fatty acids–a key ingredient for any hydrating hair mask at home!
The ricinoleic acid that's uniquely abundant in castor oil helps restore proteins and the nutrients that dehydrated hair has lost. This ricinoleic acid is a natural humectant too, meaning it'll help hair retain moisture and prevent further water loss from happening.
You can use either Jamaican black castor oil or the cold-pressed version to get this hair happy fatty acid.
Read Next: DIY Deep Conditioning Treatment At Home For Dry Hair
The Best Hydrating DIY Hair Mask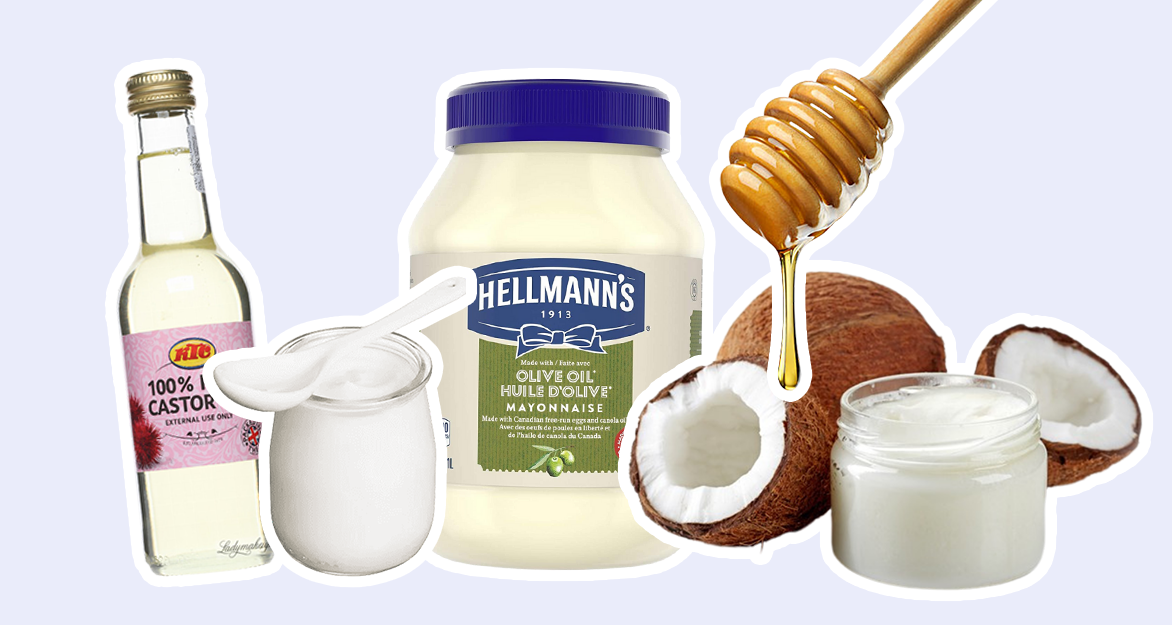 All together now! Here's how you can reap the benz of all these amazing ingredients in your own homemade hair mask.
Mix these together in a bowl:
1/2 cup of mayonnaise (organic or olive oil is best!)
2 tbsp yogurt
2 tbsp coconut oil
2 tbsp honey
3 tbsp castor oil
Once smooth, apply this hydrating hair mask from mids to ends on dry hair. Dirty hair is fine here as you can use this mask right before you shower! Leave it on for a minimum of 15 minutes, but longer is better (like, a few hours to overnight). To wash out, shampoo and condition your hair as usual, using warm water.


Love a good DIY? Read these:
1. 5 Natural Scalp Treatments You Can DIY
2. How To Get Full Lips, Minus The Filler