10 Frequently Asked Questions About Sitting Pretty's Halo Hair Extensions
You've got questions. We've got answers. Whether hair extensions have just sparked your interest or you've always had a thing for luscious locks in your beauty routine, we're so glad you've stumbled upon Sitting Pretty halo hair extensions—the only hair extensions system designed specially for thin hair. Born out of a living room salon, we've sold thousands of halos to girls around the world—and these have been their most frequently asked Qs.
And if you still have pressing questions not answered below, we're always here to answer! You can email us at hello@sttingprettyhalohair.com, DM us on Instagram, or drop a comment at the bottom of the page.
The Most Important Things (That Make Us Different)
Not all hair extensions are built the same: most of them are out here giving length and then they call it a day. What makes Sitting Pretty different is that our hair extensions are specially designed to give thin hair that thick, luscious, healthy look (and yes, length comes with that!)
Made with 100% ProGrade Remy hair, a proprietary blend of absolutely real human hair, we've devoted our business to solving thin hair problems: meaning our halos are 100% damage free with no clips, glues, or sticky installations. With different wires that sit securely atop your head, those with delicate hair are able to maintain the health of their hair while enjoying the perks of thick locks.
Our continued use of high grade human hair is the reason you may see our prices differ from other brands. Due to inflation, and the rising price of raw materials, the extension industry is at a crossroads: the need to keep consumer prices down while still being ethical and high quality. For us, halo hair extensions have always been our core product and we care for them like our own child. Meaning, we will always choose the ethical route to source and manufacture, despite it meaning a higher end cost. For us, for you, and for the world, building a sustainable and responsible brand is top of mind for us.
If you're still just choosing your thickness, take our Is A Halo Right For You quiz to find your perfect weight. And colour? Get it professionally matched by real human eyes with our Colourmatch Form (answers are sent to your colourmatch team).
Read Next: Why You Should Shop Ethical Hair Extensions
1. Can You Curl Halo Hair Extensions?
One surprising question we get here at SP, is "can you curl your halo hair extensions" and it's a resounding yes! Because of our 100% ProGrade Remy hair, you can use any hot tools on our halo—because it's real hair!
Your halo will last anywhere from 9-12 months with proper care, and with heat styling, that means always using a heat protectant! Like your own hair, damage is inevitable when you curl or straighten it, so it's a must to add protection!
Here's how you can add curls to your halo:

2. Do Halo Extensions Damage Hair?
Our favourite question that's on everyone's mind: do halo extensions damage hair? Well, you're in the right place because Sitting Pretty halos are damage-free by definition. As the first hair extension brand that's exclusively designed for thin hair, we designed our halos to be totally damage-less.
Unlike other hair extensions (and even other halos), there are no glues, clips, or anything that can pull at delicate strands. Meaning, Sitting Pretty halo hair extensions will never damage your hair! We include an optional clip for added security for those who like to get down and hair flip, but the halo stays on without it–like really on.
Read Next: These 10 Hair Products Seriously Won't Damage Your Hair
3. How To Attach Halo Hair Extensions
Fun fact about halos: you don't need to figure out how to attach them because they don't attach, they… sit pretty (okay, we had to). Because damage-free is key for thin hair types, the halo won't attach and pull at your natural hair. Instead, you can secure it like this:
4. How To Tighten Halo Hair Extensions
When your halo arrives, it'll come with lots of different wire sizes and stretchiness. Some like their Sitting Pretty halo to sit tight and some like it looser. Play around with all the different wire sizes to find your most comfortable wear for every day.
To change the wire, and how to tighten halo hair extensions, you simply unhook each side of the wire from the weft (it looks similar to a bra strap hook). Unclasp and try all the wires. Remember: your halo should sit about an inch to inch and a half from your hairline. So if it can't sit around there comfortably, it might be too tight.
For all things on how to tighten halo hair extensions, we've got you covered here:


5. Are Halo Extensions Good For Thin Hair?
If you're just joining our FAQ, this is a BIG YES. As thin haired founders ourselves, the Sitting Pretty halo is made JUST for you fine haired honeys. We suggest using the FINE halo, but with any thickness, the wire can be hidden on even very fine hair types. That plus, if you're on your growth journey, you won't lose any progress with pulling clips.
New mums will also agree: thin hair needs all the help it can get in the journey to runway-level locks. Our halos are perfect to pop on for a hot date night or when you need to go full mommy mode (like, when there's some hands that just discovered how fun hair grabbing is). Now imagine your strands were glued in… no, thanks.
Fun fact: halo extensions are the best extensions for balayage and ombre styles. As your hair grows and your balayage moves down, your halo keeps the balayage looking fresh and as high as it first started.
6. How To Wash Halo Hair Extensions
Unlike your own hair, halo hair extensions don't need to be washed regularly! In fact, even with lots of product use, you should only wash your halo every 2-3 months. We've included our Youtube tutorial for you visual learners, but here's the rundown. Key takeaways? Use our Halo Shampoo and Conditioner duo to properly wash your unique extensions.
Detangle: halos have a higher propensity to matt and tangle, so brush out your halo pre-wash using a bristle brush.
Get wet: once brushed, gently soak the hair in cool water making sure the water runs down the halo from the top to avoid the water pressure matting up the hair. Don't worry about getting the weft wet!
Shampoo: use Sitting Pretty's Halo Shampoo. This is specially formulated for hair extensions and won't strip or coat your halo! Lather using a downward motion and spend extra time rinsing.
Condition: apply a generous amount of Sitting Pretty Halo Conditioner. This is also specially formulated for halos! You can leave on for 5-10 minutes and rinse through gently. Don't leave any conditioners on overnight.
Dry: get most of the bulk water out by gently wringing the halo in a slight twisting motion while wrapped in a towel. Allow to air dry as much as possible, and blow dry on low. You can let it air dry completely, but it may take a couple days if you have a THICK Halo!

7. Can You Wear Halo Hair Extensions Up?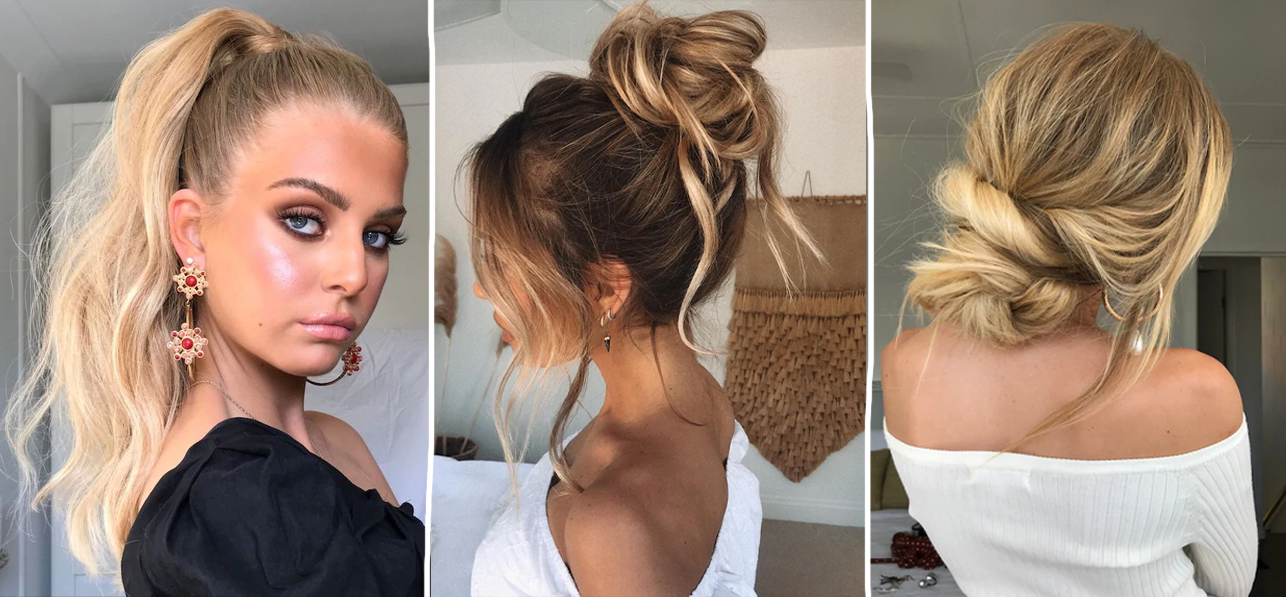 There's tons of flawless pics of luscious halo styles done down, but can you wear halo hair extensions up? Yes! The halo ponytail is our favourite (and it's super easy to do) but you can do buns, braided styles, and all these too!
A halo is particularly amazing for wedding up-dos too, btw! If you thought "oh my hair is up, why would I need extensions?" you'll be impressed to know a halo is the game changer for a wedding day up-do. It gives you (and your stylist) much more hair to work with, making your updo more regal irl and in photos.
8. Can You Use Halo Extensions On Short Hair?
Short hair can still get it! You can use halo extensions on short hair with some strings attached. For hair that's above your shoulders, a Sitting Pretty halo will give you amazing volume, but if you're looking for length, you'll need to grow your hair a few more inches. When hair is above your shoulders, the halo isn't able to give length because your ends end quite abruptly.
If your hair is anywhere shorter than your chest, you can definitely wear a halo for volume and may be able to get a little length depending on your cut! Blunt ends plus a shorter cut will make it difficult to blend out any more length. On the other hand, super layered cuts or ends that are less straight edge, can blend out a halo.
Still not sure where you lie in the whole short hair vs halo thing? There's a quiz for that.
In the meantime, here's how a halo could look on you:

9. Can You Dye Halo Hair Extensions?
For sure, pretty! Because your halo is made of 100% ProGrade Remy hair, that means it can be dyed similarly to your own hair. Although it's real hair, it's not exactly like your live hair so read on or watch the video below.
If you were colour matched, you shouldn't need to dye or tone the halo more than 1 or 2 shades. Anything more than that can be hard on your halo and may damage it forever, especially if you're doing it yourself.
That's why we plead that you go to your hairdresser and have them tone it. They also have access to high grade toners and dyes so it won't damage as much as at-home dying. But, if you'd call yourself a lowkey pro then our prayer circles will chill.
10. How To Style Halo Hair Extensions
Okay, THIS is our favourite question. Mostly because the options are endless (and fun to try). We could go on and on about different styles or you can peek these perfectly styled halo 'dos on our Instagram.
Some blog articles all about styling you might like are:
Lazy Day Looks: Easy Hairstyles With Halo Hair Extensions

5 Quick-Fix Easy Hairstyles Using Halo Hair Extensions

3 Braided Hairstyles To Try Using The Halo
And of course, something for you Youtube addicts:
Hairstyles For Your Next Date Night or Girls Night Out

Fine, Thin, Short(er) Hairstyles With The Sitting Pretty FINE Halo

How to Wear a Bandana | 3 Halo Hairstyles
Still have halo questions? Trying a halo style and just can't master it yet?
No problem at all, pretty! There's so much to know about halos and the world of hair extensions and we're always down to chat. Send us a message on Instagram or email us at hello@sittingprettyhalohair.com. Chat soon, you guys!
Recommended For You:
Hair Extensions And Why The Halo Is The Best [Infographic]

5 Ridiculously Easy Volume Hacks For Your Ponytail