Quick Mediterranean Dinner Recipes
Having a healthy and wholesome dinner is as important as any other meal of the day. Our body needs a sustained release of energy to carry out its basic function even while we sleep. A healthy and light dinner is important for good metabolism, it improves digestion, resilience from stress or inflammation and overall optimal functioning of the body. Here in this article we are gonna talk about some delicious and quick to make Mediterranean dinner recipes that you can enjoy before signing off your day.
Moroccan Meatballs for Mediterranean Dinner
Meatballs are everybody's favourite comfort food, and today we're gonna give them a quick Moroccan twist. They can be used as appetizers or dinner.  And It's an easy as well as a wholesome dish with Mediterranean flavours. So let's begin!
Ingredients
Ground lean meat
A slice of bread
Onion
Garlic
Ginger
Cilantro
Carrots
Orange juice
Spices & seasonings
Extra virgin olive oil
Preparation of your Mediterranean Dinner!
The secret spice in this dish is Raz El Hanout. Raz El Hanout is a North African spice mostly associated with Moroccan cuisine. It is filled with warm flavour, so much depth in here. For these Moroccan meatballs today, we'll use lean ground beef here, about a pound. So we'll break that up a little bit. What you need to add is just a small slice of any bread you have that's been soaked in water or milk. This makes your meatballs nice and juicy. Then grate some onions and garlic, fresh cilantro, and a little ginger for amping up the flavour. If you're into spicy food, then add a pinch of cayenne pepper and of course a little salt and pepper and finally let's add the flavour maker here, Raz El Hanout we already talked about just a tablespoon of it.
Mixing
Alright now that you have all the flavours in with your meat, give this a good mix. An all-time favourite, extra virgin olive oil, just a tiny drizzle helps the mixture come together. So now you just have to put together your meatballs, use one tablespoon measure per meatball and make small round balls. Once you get your meatballs ready, and a useful tip is to stick this in the fridge for 30 minutes or so. And it will help meatballs cook in your skillet without falling apart because nobody likes a falling apart meatball right?
So, once the meatballs are nice and chilled, and your skillet is nice and warm you can get this party going. A drizzle of extra virgin olive oil all over the meatballs and they can go right in the skillet. Let these cook and then turn them over when you feel like you've got good enough crust on the bottom. The idea here is that they are really nice and crispy on the outside, so don't be afraid if they turn nice and brown. And that's what you really want here.
Carrot Salad
Let's make some refreshing carrot salad to go with these amazing Moroccan meatballs. For this, you can use rainbow carrots because then you can get some nice colour in your carrot salad. Now cut your carrots into nice fun ribbons. Add a little bit of orange juice, about three tablespoons or so, and a little bit of olive oil a bunch of chopped mint leaves and that's it for carrot salad. You've got your Moroccan meatballs and carrot salad ready. You can serve it in a couple of ways, and a few tomatoes may be, and the onions and a yoghurt sauce to go with this as a dip. And there you go that's it for easy Moroccan meatballs. Give this Mediterranean dinner recipe a try!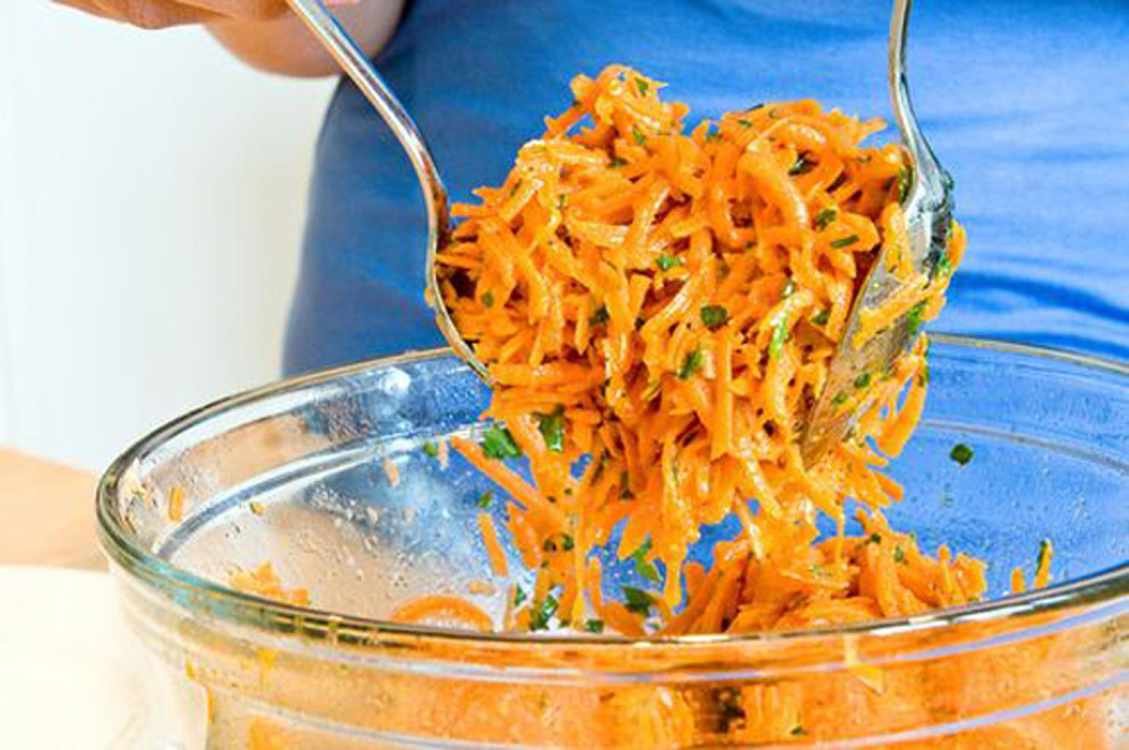 Artichokes Mediterranean Pasta
This recipe is bright and fresh Mediterranean pasta with artichokes, olives and tomatoes.
Ingredients
Whole wheat pasta
Artichoke hearts
Onion
Garlic
Extra virgin olive oil
Cherry tomatoes
Parmesan cheese
Olives
Preparation
Start by boiling 12 ounces of whole wheat pasta. Slice up two cloves of garlic nice and thinly if you want to mince it go ahead you also need one half of an onion sliced. You want to start off by Sautéing these in a straight-sided skillet because they are great for tossing pasta which you may want to do in this pan later. So heat some oil and then add your onion and garlic. Okay if you put the onion in first it protects the garlic from burning quickly which it has a tendency to do so, burnt garlic is not delicious so just keep an eye on it.
What you need is a can of artichoke hearts that are soaked in water they need to be quartered for more even distribution throughout the pasta. So, when your onions have gotten a little bit of colour they're just starting to turn slightly golden add half a cup of white wine to the pan. Be careful sometimes it can flare up and you want to cook off the alcohol a bit to let it boil up for a sec or two and reduce it out.
Bringing the Flavors Together!
When the wine is cooked out you can add your artichoke hearts.  Add a half of a pint of sliced cherry tomatoes and a third of a cup of sliced pitted olives. You want the tomatoes to cook down a little bit, season with some salt and pepper. When the tomatoes start to break down you can add the pasta, add some more cherry tomatoes if you like. Add a quarter cup of grated Parmesan cheese I've turned the heat off it helps it not stick too much to the bottom of the pan. Add a little more salt and pepper, drizzle with a little olive.
That's it your pasta is ready for serving. You can serve with fresh basil on top and grate some more cheese, add as much cheese as you want it's a little low fat which is nice hard cheeses that go a long way in terms of flavour without adding that many calories really. This delicious artichoke pasta is very easy to make for a Mediterranean dinner.  Hope you'll like it!
Vegetarian Stuffed Zucchini Boats
Ingredients
Zucchini
Extra virgin olive oil
Cherry tomatoes
Green onions
Lemon
Feta cheese
Mint leaves
Parsley
Seasoning
Preparation
Go ahead and just trim our zucchini on both sides, cut them right in the middle and separate the two halves. Give them a nice brush with extra virgin olive oil. Brush and season, so that the seasoning will kind of stick to your zucchini and give them a beautiful flavour. Season with Kosher salt and black pepper and a pinch of oregano. Super simple right? You'll love this It's so tasty and so easy. So now that you have the top already seasoned, go ahead and start grilling flesh side down. Of course, you can grill these outdoors if it's nice out or you can use your skillet it's super easy, and it works just as well. So just a quick brush of extra virgin olive oil to the skillet.
So while it's grilling on the flesh side, go ahead and season the back end. Do a brush of olive oil, season with salt, pepper, and a little bit of oregano. When it's nice and charred and tender turns the side and wait a few minutes on the other side. You've got some beautiful charred zucchini boats. Let them cool for just a minute while you work on the rest of the filling that goes into the zucchini boats.
Stuffing
Chop some green onions, parsley, fresh mint leaves and some cherry tomatoes. Add some crumbled feta cheese. You can omit the feta if you want a vegetarian version of it. And then maybe a little bit of lemon zest and some lemon juice too. Okay so in order to stuff the zucchini, you obviously need to make room so try to scrape out the flesh of zucchini and add it to your stuffing. To bring it all together, a drizzle of virgin olive oil and mix this all together. And you've made every use of your zucchini hearts here, so they're in the mix. Before you add the mixture to the zucchini boats, make sure you plate them, because then it's much easier not to move them with the stuffing on top. Go ahead and add your little filling. Enjoy your Mediterranean dinner with beautiful stuffed zucchini boats, full of fresh herbs and beautiful colours.
The post Quick Mediterranean Dinner Recipes first appeared on Food Life Book.
The post Quick Mediterranean Dinner Recipes appeared first on Food Life Book.