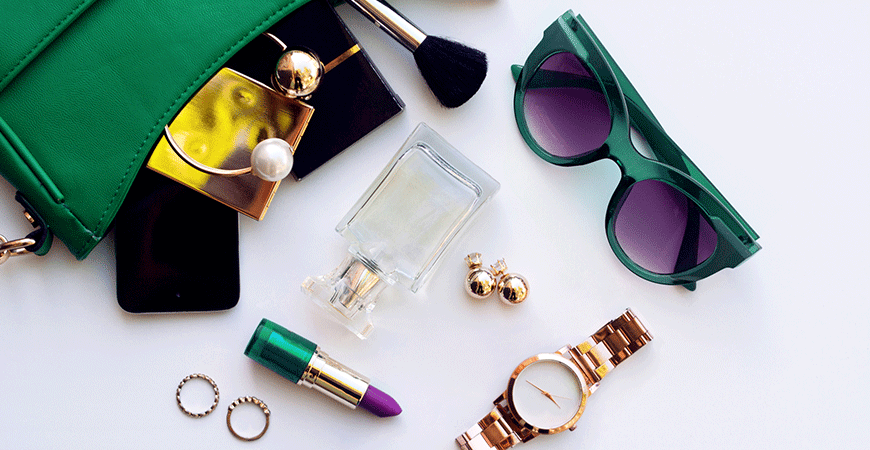 12 Essentials to Keep in Your Travel Makeup Bag
Less is more when it comes to traveling lite, and this includes your makeup. But you also still want to look your best, while taking up minimum space in your overnight bag. So, if you have ever wondered, 'what should I have in my makeup bag', then we have all the answers.
From beach natural to impromptu party glam, we list all the essentials you really need to keep in your travel makeup bag.
1. Base
Flawless skin is the basis to any vacation or weekend away look, so your favorite base product is the first to go into your makeup bag. Tinted moisturizer is the ultimate space saver and one of the best travel makeup picks as it can double up as a day moisturizer while giving you a healthy looking base.
For a little more coverage without looking heavy, opt for a BB cream or a lightweight foundation which you can build up for a night-time look is also ideal. Whichever you choose, only take one, as you need space for 11 more products!
2. Concealer
A concealer is another one of those makeup necessities, as it can be used on its own for minor touch ups or with your base if you are having a bad skin day. You can also use it to disguise any dark circles or under eye bags if you've had one marguerita too many! A good idea is to opt for a long-lasting formula so that one application can last all day, even when the vacation heat is on.
3. Travel makeup brushes
For slick makeup application on the go, a set of travel makeup brushes are a must. You don't need too many – an eyeshadow brush, slanted brush for eye liner and a soft blusher brush are all you need to cover all those travel makeup bases.
4. Powder
While it may seem an extravagant addition to your travel makeup bag, a good, lightweight face powder is worth its weight when traveling, especially if you are going to warmer climes. Use a light dusting to set your makeup in place, take the shine off oily skin and to keep your makeup cool matt, even when the heat is on.
5. Bronzer/blush
A little bronzer or blusher can work wonders to warm up your face and bring life back into your skin, especially if you've had a late-night vacation party! And if you pick the right shade, your blusher or bronzer can also be a super multitasker – with powder doubling up as neutral eyeshadow and cream blusher also adding some color to your lips.
6. Brow kit
The brow is the big thing in beauty right now and so keeping them groomed as you travel will ensure a polished look with minimal effort. A good idea is to put together your own eyebrow travel kit; all you need is a pair of tweezers, pencil to fill in and a mini eyebrow brush to set them in place. And each of these items can also multitask so that's another space-saving win-win.
7. Eyeshadow palette
If you like to wear eyeshadow, then a small multiple color palette will see you through your travels and take you from day to night with ease. Opt for neutral colors that include a darker shade which you can also use with a slanted makeup brush to create a gorgeous eye liner flick.
A compact eyeshadow palette will also save space and if it contains a highlighter, even better, as it can then be used on your cheeks or other areas on your face for luminous definition.
8. Mascara
If you can only take one item, then make it mascara as this piece of makeup can transform any look. A simple slick of mascara is enough to take you to the beach and beachside café; then layer it up for more volume and definition and you are lash ready for the bar.
A good tip is to make sure it is waterproof so that it can withstand weather, heat, humidity, and the pool, all without smudging. Just make sure you also pack a good waterproof eye makeup remover so at the end of the day, you can gently whip the mascara away and avoid that panda look.
9. Tinted lip balm (with SPF)
Even if you don't normally wear lipstick, a tinted lip balm with a good SPF is going to finish off a natural makeup look. A neutral-colored lip balm is also travel essential as it can help to protect you from dry or cracked lips as you travel, especially in different climates.
If you really want to take a lipstick to transform a daytime look into night, then the key is to select just one lipstick shade that will work with all your outfits – you can always build the color up for a more standout evening look.
10. Sunscreen
While not strictly makeup, a quality sunscreen formulated for the face is essential for your travel makeup bag and ensures you can protect your skin and keep it glowing with health.
Skin experts recommend a sunscreen with an SPF (sun protection factor) of at least 30. Opt for a gel or ultra-light formula so that it isn't sticky or leaves a greasy sheen on your face.
11. Those little extras!
If there's space in your makeup bag, or it has a few side pockets, then there are few little 'can't live without' extras you can take. These should include a good pair of tweezers (for those emergency eyebrow tidies), cotton pads to remove makeup and a travel-sized magnifying mirror.
12. Makeup remover
To keep your skin healthy, it's important to always remove your makeup at the end of the day. So, having a travel size bottle of cleanser into your travel makeup bag means you won't be tempted to go to bed without whipping away the makeup traces of the day.
Then pop on some moisturizer and a little eye cream and you'll be ready for some skin-restoring slumber time!
The post 12 Essentials to Keep in Your Travel Makeup Bag appeared first on BeautyBets.