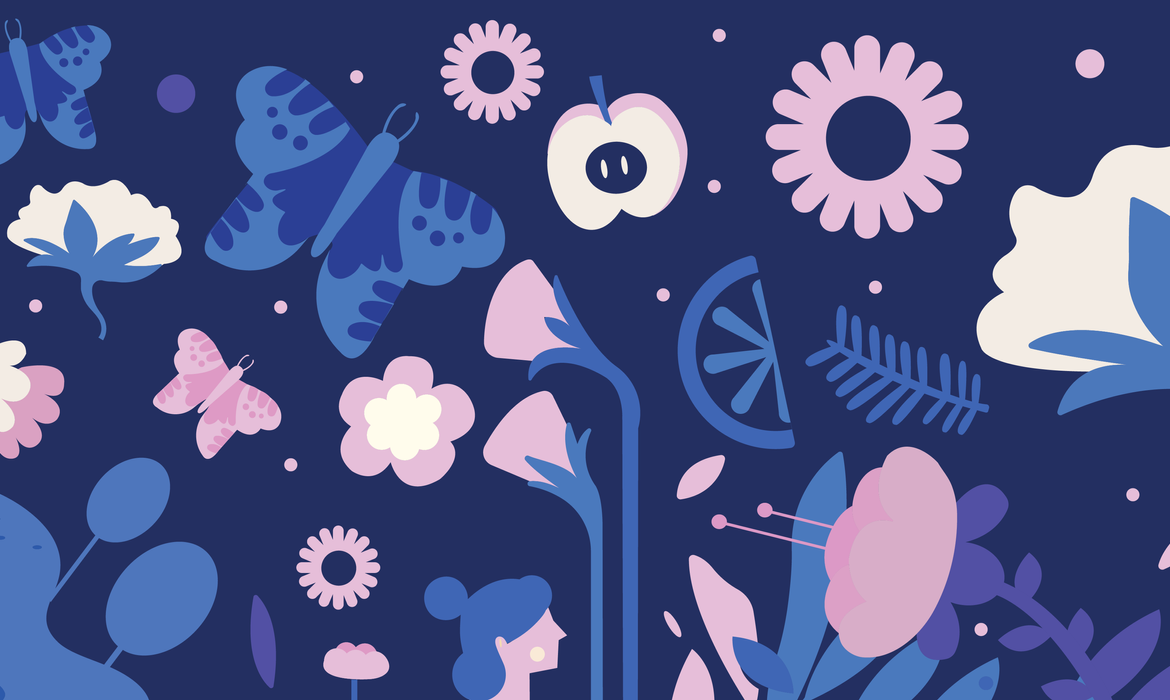 Words of hope for hard times
Through tough times, we discover so much about ourselves and what we're capable of – strength we never knew we had, deeper empathy, a better understanding of our values, and self-acceptance. Here, the Happiful community is sharing its insight and lessons learned, to help you on your own journey

That value of providing others with the support they need is something woven into the very fibres of what we do at Happiful. In fact, our story began when two sisters, Aimi and Emma, founded Counselling Directory after experiencing their own challenges, and not knowing where to look for help.
Their mission went on to help millions of people and, five years ago, a tiny team came together to create the first edition of Happiful. The magazine launched with two key goals in mind: to end mental health stigma, and to aid people in finding the help and support they need. We wanted to do something different; we wanted to challenge ideas about what a lifestyle magazine could and should talk about. And in the years since our first issue went to print, we've worked tirelessly to do just that.
Something that has always astounded us on this journey is just how much can be learned by listening and sharing. We learn so much for our readers in the Happiful community, the same way we hope you pick up lines of wisdom from our pages.
To celebrate the power of community, we're sharing advice and words of hope for the tough times from the Happiful team and from you, our readers.
The Happiful team
"A sentiment I've found myself repeating recently is: 'We rise.' To me, this is a personal reminder that with both difficult situations and people, or when my patience is being tested, I can both rise above it and rise to the challenge. I am more than my circumstances dictate." – Rebecca Thair, editor
"'You have survived hard times before. And you will again. You have the strength.' I remind myself of this when I am challenged and overwhelmed." – Charlotte Reynell, creative lead
"When I feel burnt out with my work I usually tend to go play basketball or any form of exercise that does not require me to use my brain a lot." – Rosan Magar, illustrator
"Something that I've been working on in recent years is letting myself off the hook when things are tough. Feeling a bit moody? That's fine, I'll spend some time doing something I enjoy. Overwhelmed by clutter in the house? No problem, I'll clear one small space today, another area tomorrow. Tired and drained? That calls for a bath, a comfort watch, and an early night. Giving myself permission to drop things when needed makes all the difference." – Kathryn Wheeler, features editor
"Happiness is amazing. It's so amazing it doesn't matter if it's yours or not' – After Life. When I'm struggling or feeling low, I try to think about the good things that are happening to the people around me. Your joy will come and, when it does, someone you know will use your happiness to get them through." – Amy-Jean Burns, head of product
The Happiful community
"From your lowest point, you just need to find that small amount of life purpose, grow again, and reach out to get the support you need. You have the power, dig deep." – Jayne Padley
"Retreat does not mean surrender, and hiding does not mean giving up. Give yourself time and space to regroup, and let no one give you BS for needing to take it." – Jake Basford
"Choosing to stay is bold, and it is brave. Holding out a little while longer is an act that is laced in the hope that things can be better than they are. And it is a movement that shouldn't be discounted, underestimated, or overlooked. You may feel that you are living out your story in the shadows, or reaching out in the quietest of whispers. So, today, I want you to know that you are seen, you are worthy, and above all, you are loved just as you are." – Millie Blue Capon
"Every day is an opportunity to create change." – Disree Shaw
"When you're worrying about what other people are going to think, remember that no one cares what you do with your life as much as you do. The good people just want you to be happy. So be brave, you can make the changes you need to make to create the life you want." – Thalia Caddy
"Making the choice every day to hold space for positive, useful, grateful thoughts has helped me build up my self-belief, and I hope you can give it a go too." – Emily Green
"For me personally, it's all about getting outside in green space, finding simple things that spark joy, practising gratitude, and connecting with people who know me best and who can help me laugh out loud in a heartbeat." – Deborah Bulcock
"Hope is such a powerful word and one that has helped me so much with my recovery from anorexia. I always remind myself that not only is the word 'hope' so powerful on its own, but it's also the acronym: hold on pain ends. It has always served me as such a helpful reminder that nothing lasts forever. We have survived 100% of our worst days, so we can keep on fighting for the days where we can be at peace." – Hayley Elizabeth
"Think of something you are grateful for and focus on that feeling of gratitude, as it will magnify and bring more good feelings to you."
– Yanique Thompson
"Take it easy on yourself. It's so easy for us to blame ourselves for neglecting our mental health, but it isn't that. We are so quick to feed ourselves with negativity and put ourselves down. We are warriors, and each one of us has some battle we are tackling. Be kind to yourself. You are enough!" – Tammy Rowe
"Find a mantra and breathe it in, hold, and empty it out. In with positive thoughts, hold that (it's impossible to think negative and positive at the same time), and let go of all negativity, breathe it all out, out, out. Any time of day, anywhere you are, as many times as you can." – Angie Goudie
We hope these words fill you with comfort and support. And, remember, the pages of Happiful are here for you, whatever you're feeling, whenever you need them, wherever you are on your journey.
---
Need to talk? Connect with a counsellor using counselling-directory.org.uk