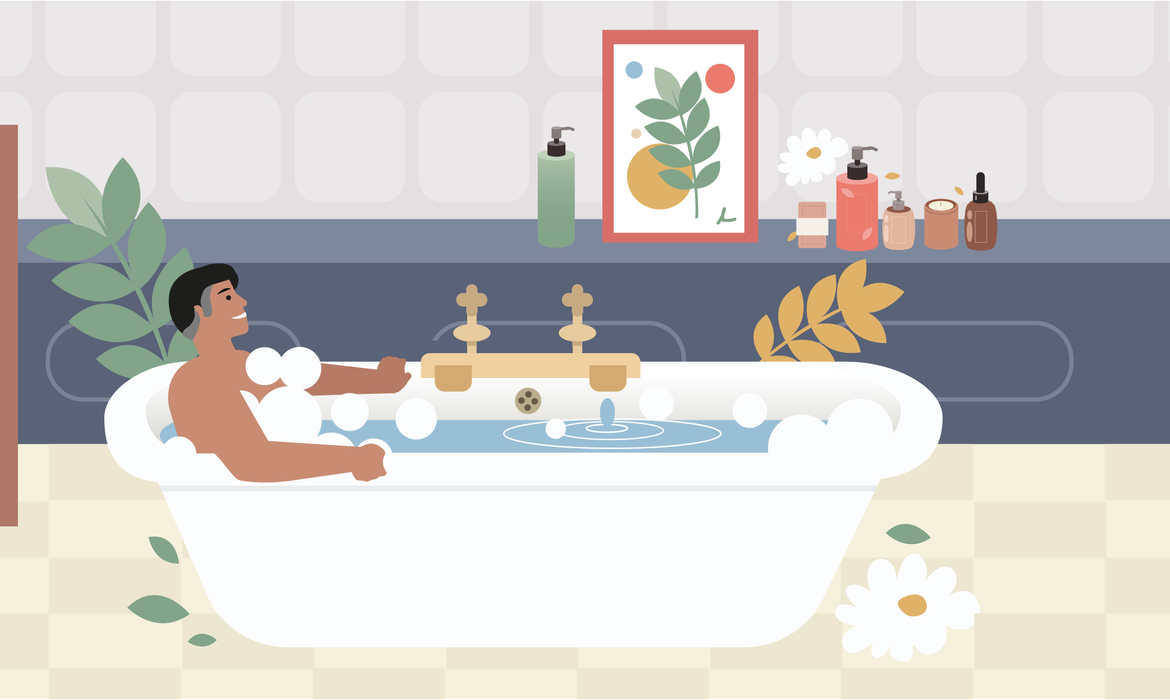 The art of bathing: 5 essential tips to make the most of your tub time
Whether you indulge in a long, steamy soak, or prefer to take a quick dip every now and then, discover how you can turn bathing into an artform

Peace. Quiet. (At least) 30 blissful minutes to sit back, relax, and let the world fade away. Bathing is about much more than simply getting clean. It can be an escape, or space for reflection. Making time to soak in the tub may seem like a luxury, but it's also a form of self-care, a way to look after our wellbeing, and a simple means to incorporate relaxation into our lives.
Rituals, relaxation, and restoration
Studies by both anthropologists and psychologists have shown that rituals – simple or complex – can help lessen anxiety and uncertainty. They can even impact how we think, what we feel, and how we behave.
Following a bath, we can feel calm, relaxed, and refreshed. But the benefits of bathing aren't just about how they make us feel. Scientifically proven health benefits range from improving heart health and soothing muscle or joint pain, to helping moisturise your skin, hair, and eyes. Taking a bath can even positively impact your oxygen intake, as well as benefitting your brain and nervous system.
Aromatherapy and bathing
You don't need expensive bubbles and bombs to make the perfect bath. We spoke with aromatherapist Louisa Pini to find out how aromatherapy can create a sense of luxury.
"Aromatherapy is an amazingly powerful tool when it comes to relaxation and self-care. Our scent pathway has a direct link to the brain, and triggers psycho-physiological responses in the body. Essential oils can stimulate our in-built 'relaxation response'," Louisa says.
"An aromatherapy bath is my favourite self-care ritual, because the warm water aids the absorption of essential oils. It's easy, relaxing, and offers the opportunity to include other wellbeing practises at the same time, like meditation."
How to turn your bath into an artform
Making the most of your time in the tub doesn't have to be complicated or expensive. Try these five simple tips to get started.
1. Put the world on pause.
The best way to carve out me-time is to minimise the chances of interruption. Pause your notifications, pick a time of day when your family is less likely to disturb you, or negotiate with your partner so you can each have quality alone time.
Essential oils can stimulate our in-built 'relaxation response'
2. Create the right atmosphere.
Dim lights. Scented candles. Soft towels. Creating the right atmosphere isn't just about cliches – it's important that normal day-to-day worries aren't creating issues. It's not glamorous, but ensuring your bath and bathroom are clean and neat, can help to avoid your mind turning to never-ending lists of chores (and the inevitable guilt that comes with taking a moment for yourself before everything else is done).
3. Come prepared.
Learn what helps you relax. Maybe that's soothing music, or a podcast. Ensuring you're prepared lets you get the most out of your time. Try experimenting by bringing a book or magazine, grab a cuppa or your favourite drink, or bring snacks.
4. Treat yourself and go screen-free.
If you find switching off difficult, leaving your phone at the door could be the answer. Doomscrolling (spending excessive time absorbing negative news) and FOMO (fear of missing out) can lead to time lost scrolling through our social media feeds, ultimately leaving you feeling stressed, anxious, and on edge. Not only that, but too much blue light before bed can suppress your body's release of melatonin, meaning you may not feel as drowsy when it's time to sleep. Take time to disconnect from the digital world, and reconnect with how you're feeling here and now.
5. Find your perfect blend.
Aromatherapist Louisa recommends blending three essential oils together with a carrier oil to help create a relaxing, mood-lifting bath. Lavender (to help increase sleep quality and lower anxiety), sweet orange (to boost mood) and frankincense (for calm, deeper breathing) could be the ideal mix.
🛁
Calming and uplifting bath blend recipe
Aromatherapist Louisa Pini recommends:
• 3 drops frankincense
• 3 drops lavender
• 4 drops sweet orange
• 10ml jojoba oil or fractionated coconut oil
• Mix well and add to warm running water.
Note: If you suffer from a serious medical condition, always consult your GP before using essential oils.
---
For more insight on relaxation and aromatherapy, visit therapy-directory.org.uk