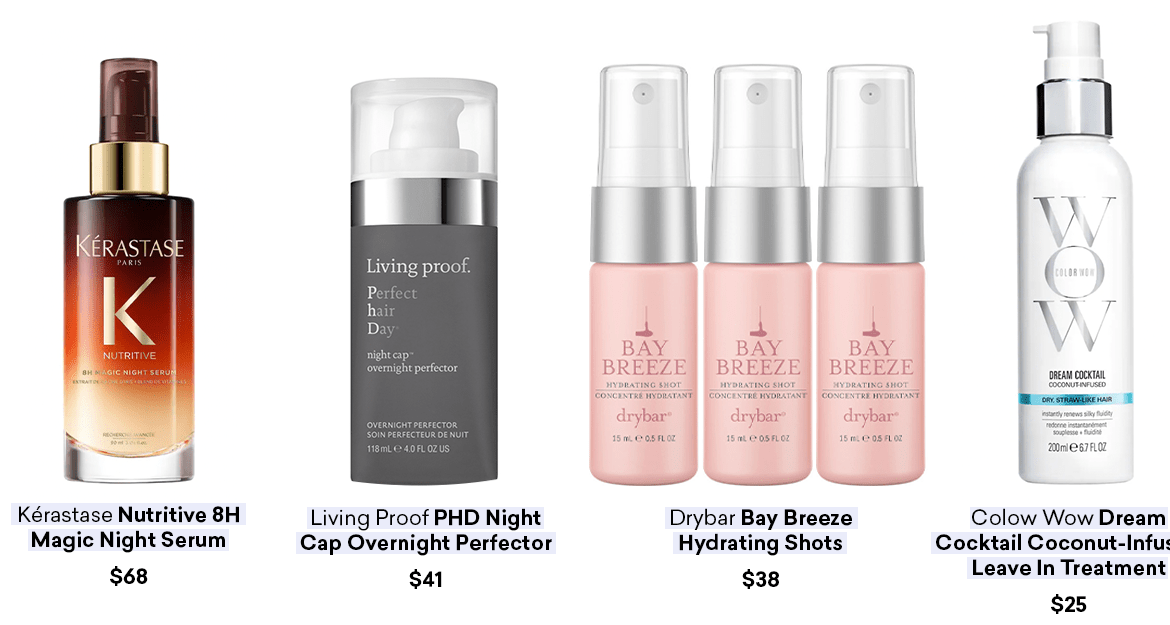 Hair Hydration Treatments to Save Summer Hair
For hair hydration levels, summer is typically strenuous. And we doubt our strands look forward to the sunny months as much as we might: it's too much UV, too much chlorine, and not enough moisture… ever. We wanna give our hair a little something for sticking it out with us, guide it back to its bouncy self, and dive deep in how to hydrate your hair during summer.
Read Next: How to Hydrate Hair After Bleaching

Hair Hydration Treatments During Summer
We love leaning on ol' reliable: the natural goodness of oils. Arguably, the best way to hydrate dry hair is to DIY your own hydrating hair masks because they're naturally hydrating and deeply penetrating. Especially if you want to treat your re-hydration as more of a treatment, we suggest lathering up in fatty oils like castor, jojoba, and coconut and slicking hair into a protective sleep style while you sleep.
Overnight, hair (and skin) act differently than when we're awake–they're able to work a little harder on repairing cells than during the day. Also, there's no environmental stressors like pollution, sun, or chlorine coming into your bedroom so your hydrating oils can penetrate strands undisturbed.
Just love to try an it-product? Us too. Here's some tried and tested hair hydration treatments we love.
Kérastase, Nutritive 8H Magic Night Serum sold HERE; Living Proof, PHD Night Cap Overnight Perfector sold HERE; Drybar, Bay Breeze Hydrating Shots sold HERE; Colow Wow, Dream Cocktail Coconut-Infused Leave In Treatment sold HERE.
What Does Hydrating Your Hair Mean?
Hair hydration is different from hair moisture which is different from conditioning; the meaning of all three differentiate by where they affect the stand. For hydration, think of it as an inside job: to "hydrate hair" means to penetrate the internal layers of your hair with moisture content, thus improving water absorption and retention. Moisture, on the other hand, locks in that water absorption and ensures you don't suck in water from the air (no thanks, frizz!)
A good hydrating hair oil will contain proteins, amino acids, and nourishing vitamins that help penetrate that inner layer and seal the outer cuticle.
Read Next: DIY Deep Conditioning Treatment At Home For Dry Hair
How to Hydrate Your Hair
Our biggest hair hydration tip for the summer months is to avoid needing hydration treatments in the first place. How do you do that? Use products that protect against summer damage like sun, chlorine, and other summer stressors from de-hydrating your hair.

Hydrating Hair Masks
A hydrating hair mask, or hydration treatment, is the best way to hydrate dry hair. These work a little longer than a spritz or an on-the-go hydrating hair oil so when locks really need help, you can play saviour. Use these for an hour before your shower or overnight.
Kérastase, Specifique Divalent Hydrating Gel-Mask sold HERE; Shea Moisture, Manuka Honey & Yogurt Treatment sold HERE; Briogeo, Curl Charisma Hydrating & Defining Hair Mask sold HERE; Moroccanoil, Intense Hydrating Mask sold HERE.

Hydrating Hair Oils
You don't always need a DIY coconut oil mask to hydrate either! A booming haircare scene now offers ways to hydrate your hair on-the-go too. Hydrating hair oils, compared to moisturizing or conditioning products, are a bit lighter so they work great on dry styles!
Finish your dry-style with a hydrating hair oil or use one on wet hair to allow the hydrating ingredients to soak in while hair dries. For a lighter-than-a-mask hydration boost, we love these…
IGK, Best Life Nourishing Hair Oil sold HERE; Amika, Glass Action Hydrating Hair Oil sold HERE; Kérastase, Blond Absolu Strengthening Hair Oil sold HERE; Sol de Janeiro, Brazilian Glossy Nourishing Anti-Frizz Hair Oil sold HERE.
Wash Your Hair Less
Did you know that sebum is one of your scalp's ways to hydrate your hair? During the summer, you can help maintain hair hydration levels by washing your hair less! Locks are a little less susceptible to the drying power of the sun and chlorine when they have a layer of oil, especially at the scalp!
If you're new to the idea of washing your hair less: welcome! Summer is a great time to skip shampoo because you'll be dying to put your hair up most days anyways. Find your fave oily hair hairstyle and thank us later.

Choose the Right Hydrating Shampoo & Conditioner
When a hot summer (date) night rolls around and you've exhausted your slicked back braid pony, the best way to hydrate hair in the shower is to get the right hydrating shampoo and conditioner. More specifically, use a hydrating shampoo from root to end and finish with a moisturizing conditioner to seal in the hydrating powers of your shampoo.
You can also add a hydrating hair oil rinse in here too: after shampooing, run jojoba (or your oil of choice!) through mid-sections to ends. Add your conditioner on top and allow this combo to sit for a few minutes while you go about other shower business. Wash out and finish with a cool-cold rinse to seal cuticles!
Stop Using Heat
A great tip that you can use all year long: stop heat styling or at least as much. Even if you use a heat protectant spray regularly (which you are, right?) your hair is already going through so much more in the summer that it's best to master at least a few go-to non-heat styled looks. Some we love are overnight heatless curls, braids, and velcro rollers. See? You got options.
Want more hair hacks? Read these:
How to Protect Hair From Hard Water
Dry Scalp or Dandruff: How to Spot the Difference